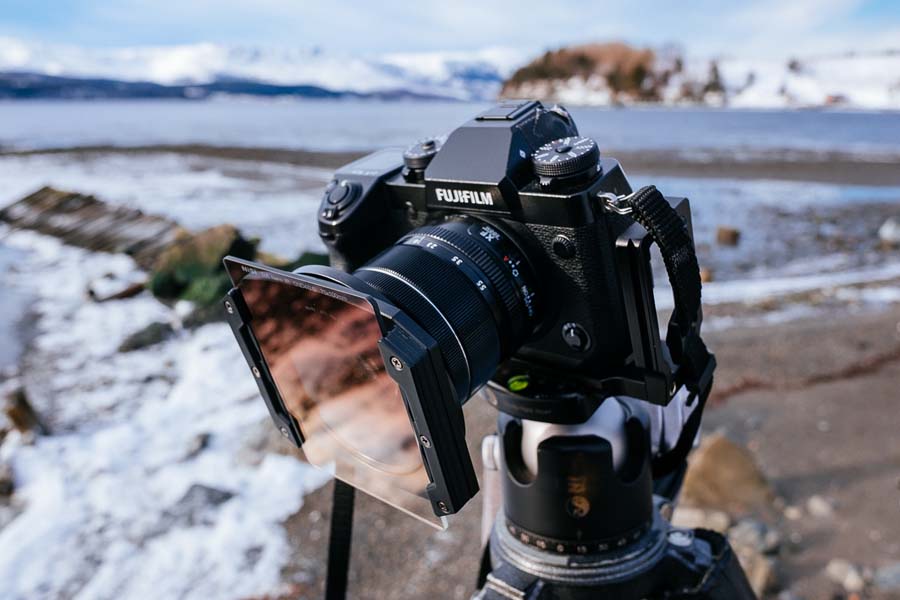 NiSi M75 filter system mounted on a Fujifilm X-H1 and XF 18-55mm.
M75 filter system available components.
The NiSi M75 is the newest in a series of high quality filter systems from NiSi Optics. Already available are 100mm and 150mm systems. The 100mm systems are for lenses with filter diameters up to 82mm and the 150mm systems are for ultra wide angle lenses such as the Fujifilm 8-16mm, the Nikkor 14-24mm and so on.
In the past I bought a 'cheaper' filter system and was entirely underwhelmed by it. There were terrible, uncorrectable colour casts when using even the weakest neutral density filter. The filters were easily scratched as they were not made of glass. My overall impression wasn't good and I stopped using that system as it was more detrimental to my images than positive.
NiSi's filter systems are on an entirely different level! The M75 system is very well engineered and made of high quality materials. I was impressed immediately upon opening the box. Inside were well wrapped and protected filters and components. The filters are made of very high quality coated optical glass and details of each filter have been laser etched into the glass at the top edge. It's reassuring to see beefy screws holding components together. Included with the kit is a soft case capable of holding the filter tray, adaptor ring, polarizer and up to six square or rectangle filters. Even the case is of high quality. The material is nice, looks durable and inside it filters are well protected from abuse in felt lined sleeves. The case features velcro straps that allow it to be attached securely to a tripod or around a camera strap.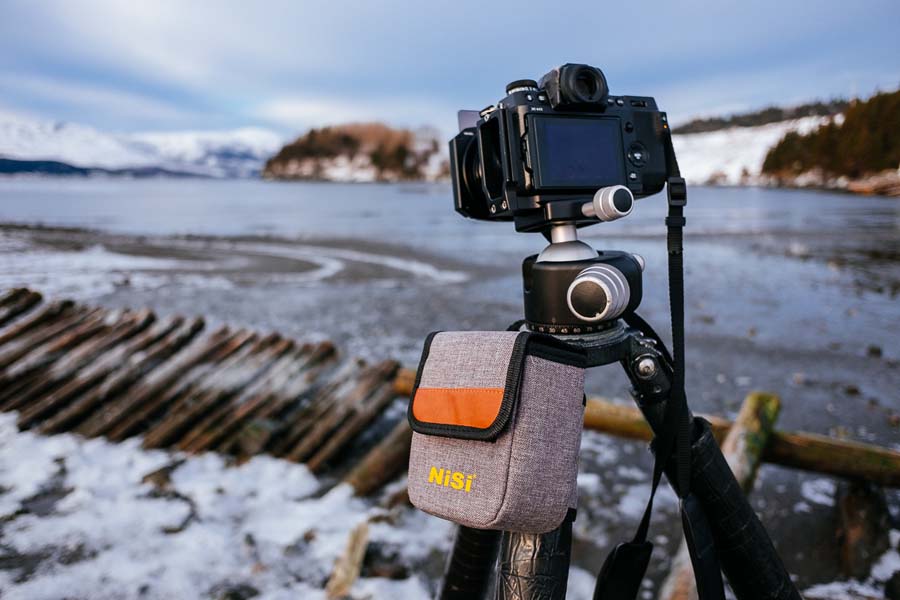 Included M75 soft filter case.
The M75 has a filter width of 75mm and is designed to use with smaller lenses up to a maximum filter diameter of 62mm. This is the perfect system for those that are shooting small diameter lenses and want to keep costs, size and weight down. In my case I used both the Fujinon XF18-55mm and the XF14mm f2.8. Both have a filter diameter of just 58mm and both lenses are capable of fantastic results. Add a camera body and the M75 system and it all takes up very little room in my camera bag.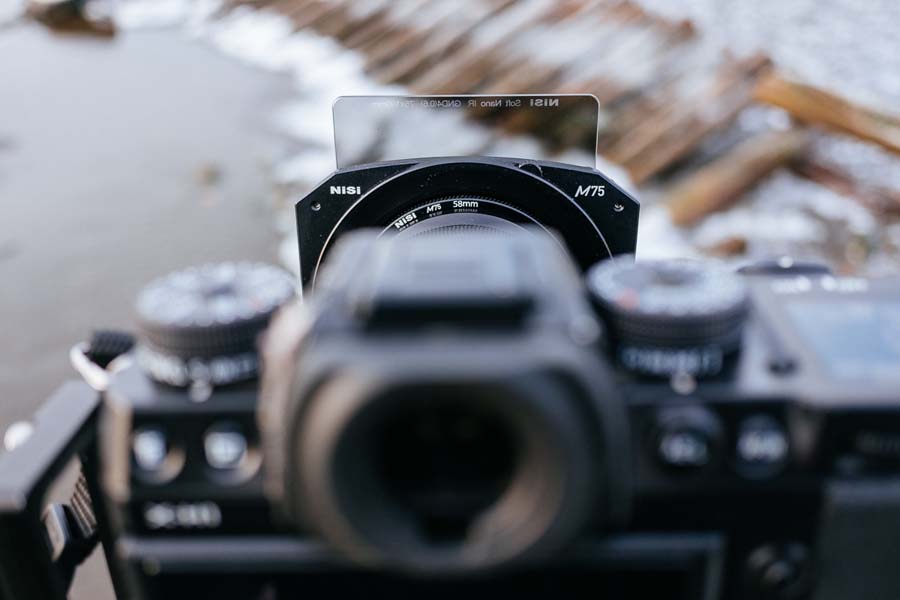 M75 system attached to XF 18-55mm via 58mm adaptor ring.
Like it's larger siblings the M75 filter system allows the photographer to use both a polarizing filter and slide in filters. The M75 system allows two of the later. The polarizer is ultra thin. It is the thinnest polarizer that I've ever seen and dwarfs all of the others I own in girth. It screws into the adaptor ring and becomes part of the filter system. Image quality from the polarizer is absolutely top notch. Rotation of the polarizer is ultra simple. The adaptor ring has two little knurled rings that mesh with geared teeth on the edge of the polarizer and allow you to rotate the polarizer in either direction, even with gloves on! Brilliant!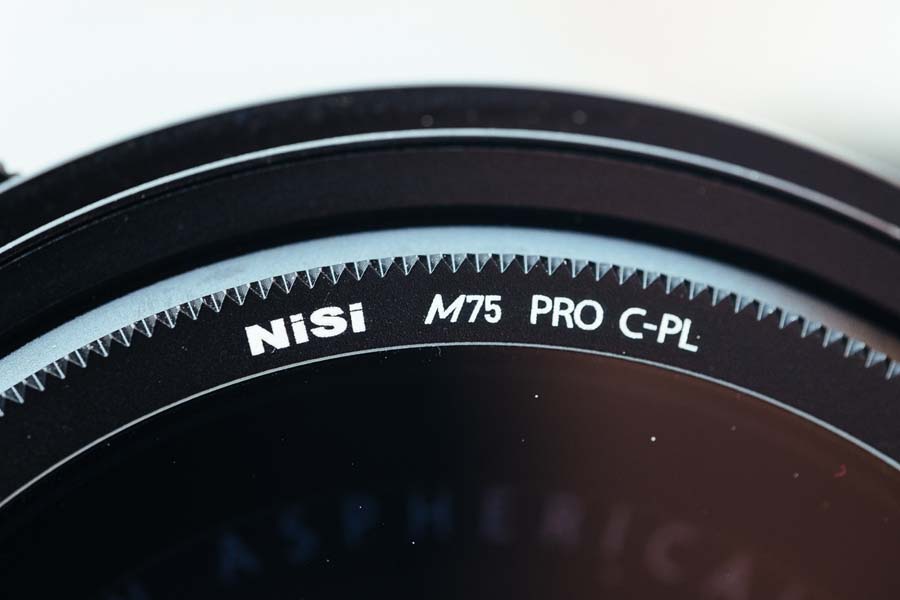 Teeth on the edge of the polarizer which allows easy rotation via geared dials.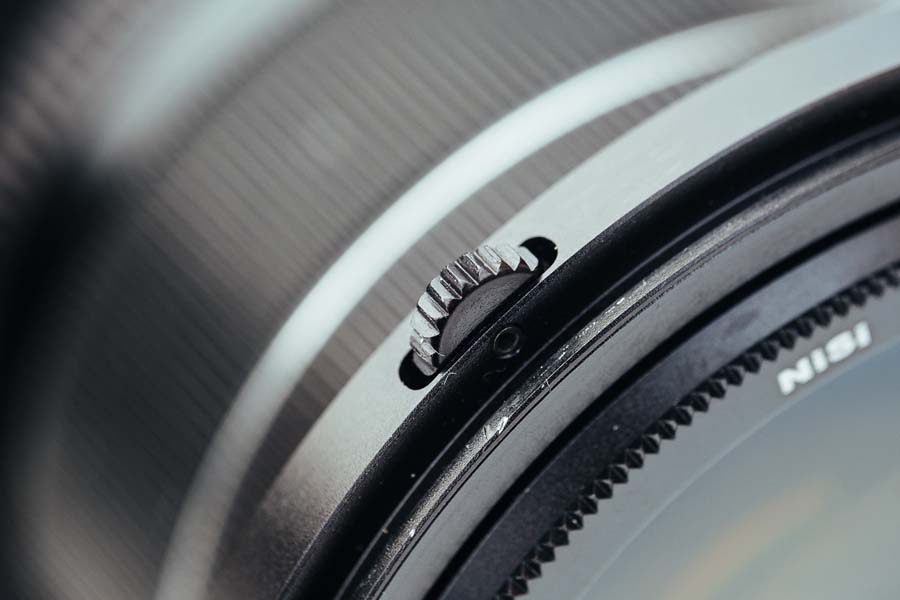 One of two rotation dials for the polarizer.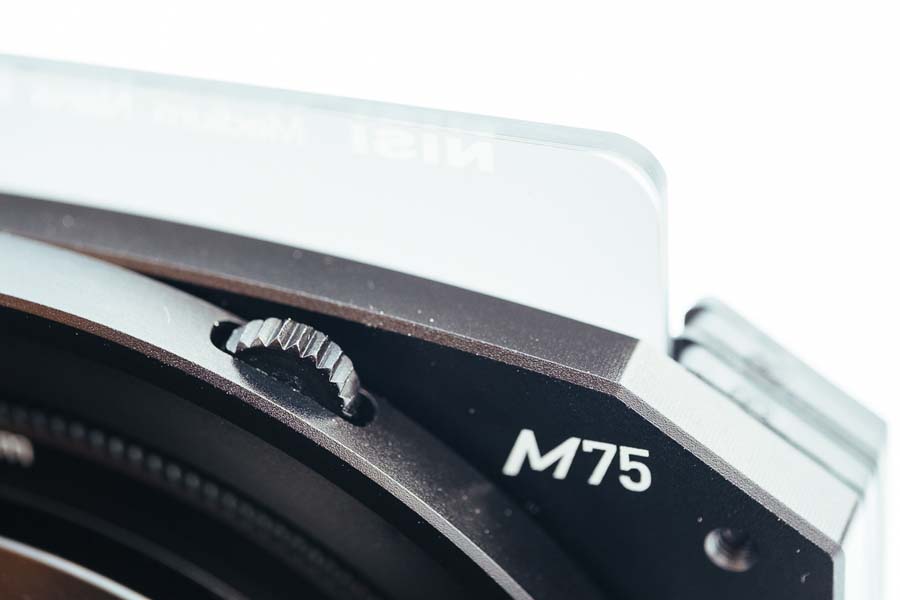 Another view of the polarizer rotation dial with filter system in place.
The filter tray attaches to the front of your lens via the adaptor ring. There are two knobs on the side of the system. Pull out the lower unlabeled knob and the adaptor ring is now able to click into the filter tray. Let it go and a spring loaded latch holds things in place. Above it is another knob labeled 'LOCK'. When you screw this tight the adaptor ring and filter tray are locked together for added security. Just a heads up not to unscrew the bottom knob. There is no reason to do so and it's a pain to screw back in.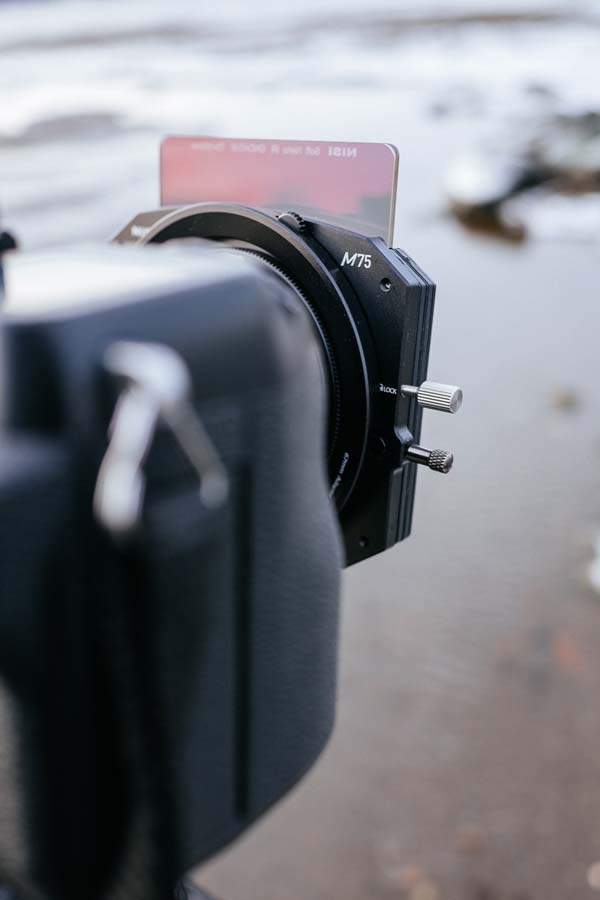 Filter tray attachment and lock knobs.
There are a full series of slide in filters available for the M75 kit. They include neutral density (ND) filters such as ND8, ND64, ND1000 and ND32000. Graduated neutral density (GND) filters include soft transition GND4 and GND8, medium transition GND4 and GND8, hard transition GND4 and GND8, reverse GND4 and GND8, and also a natural light filter which reduces or eliminates light pollution from night time exposures. I did not test this filter, nor the hard transition GND or reverse GND. I did test the ND32000 and the soft and medium transition GNDs.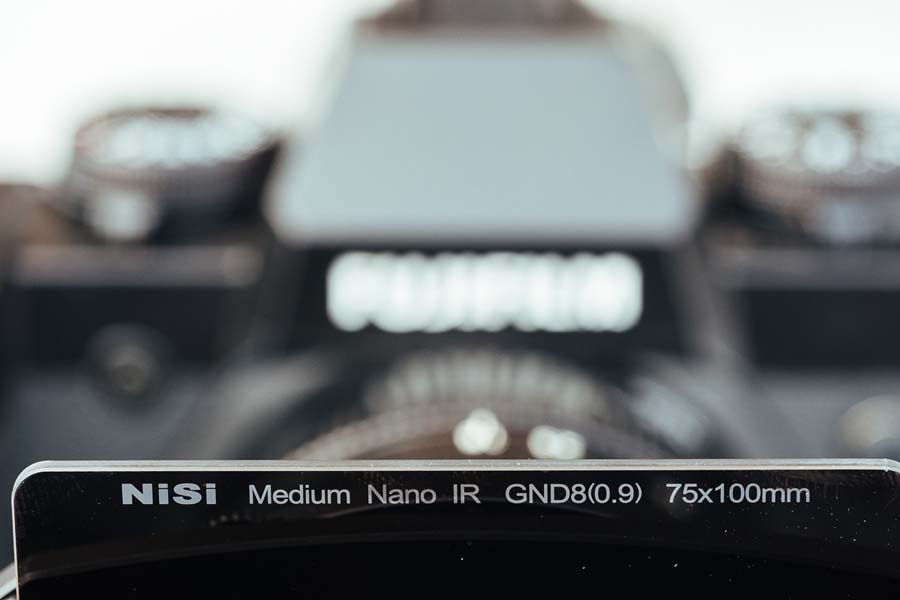 Laser etched filter details.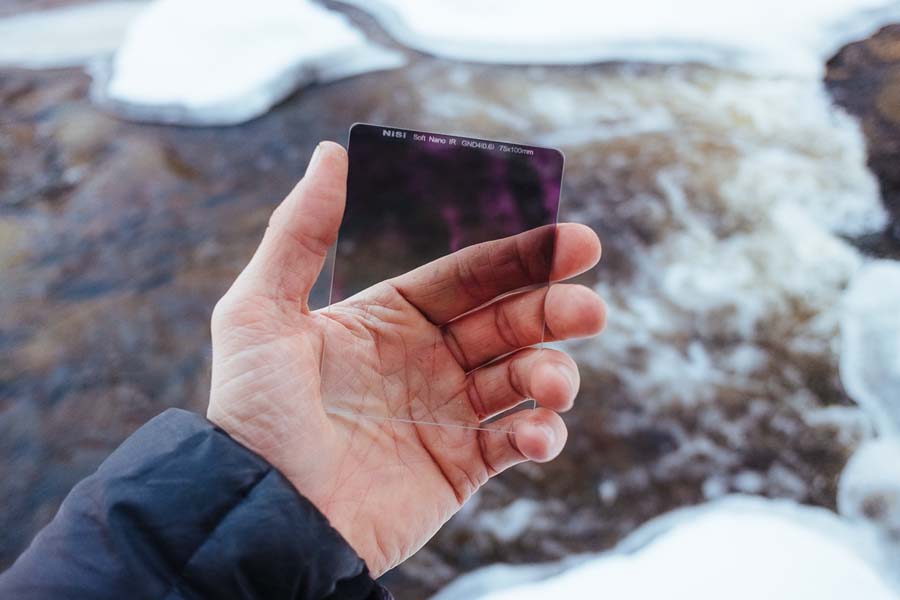 The quality of these filters is evident immediately in hand. It is confirmed by high image quality when using the system!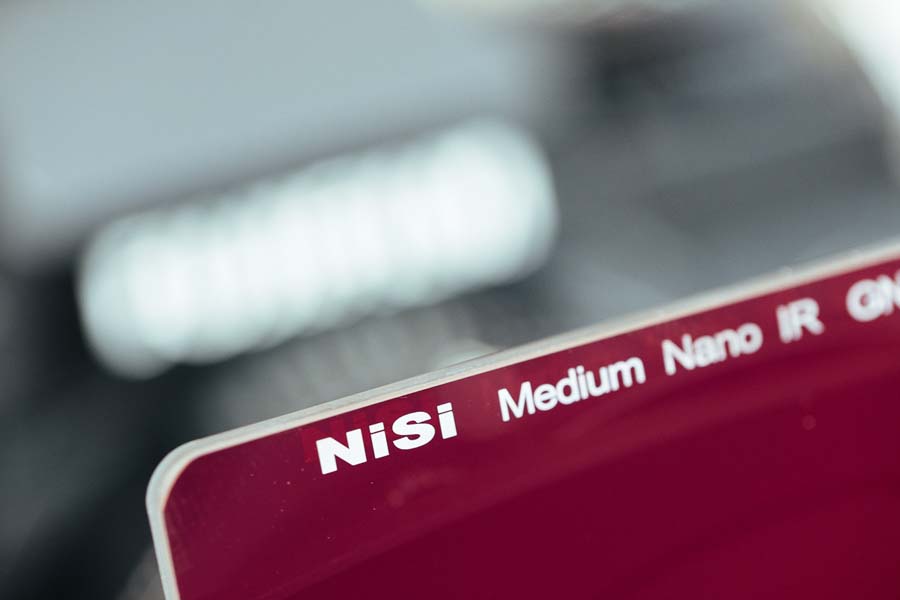 Optical coating and laser etching is visible on the GND's.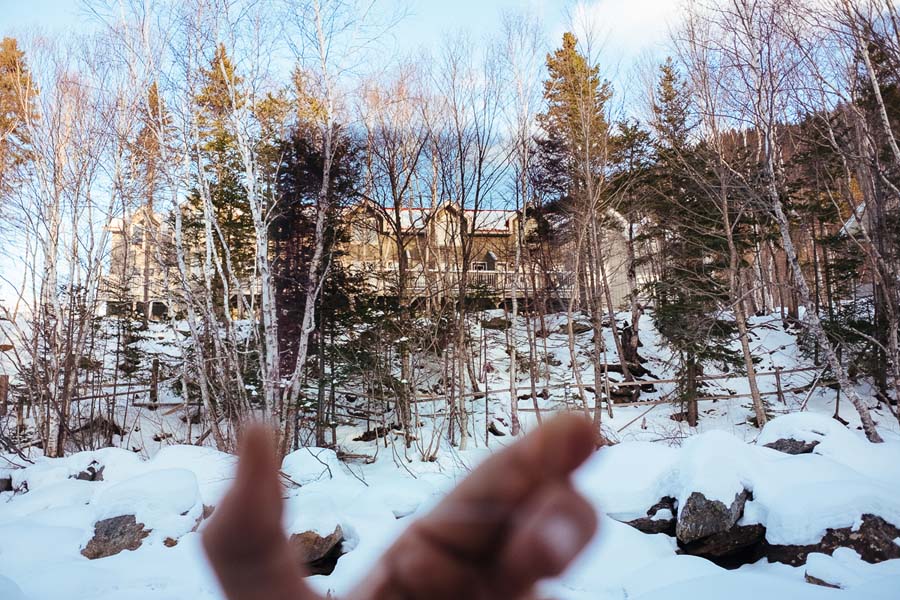 In this image the snow covered rocks in the foreground are in a small, shaded valley while the upper was lit by afternoon sunlight. GND's are fantastic for balancing the light in photos.
The ND32000 really caught my eye. I'm a fan of long exposures in daylight so this thing was of immediate interest. I've used ND1000s (10 stop) in the past but never a 15 stop ND. That's some serious light stopping power! A few months back I was in need of a new ND1000 so did a little research and found mid range priced filter on Amazon. I got what I paid for! The filter was of mediocre quality. Images were sharp in the middle and much softer at the edges. There was also a large amount of vignetting which i would guess at at least a 2-3 stop loss of light at the peripheral. When I first shot with the ND32000 I figured there'd be serious compromises also but that is not the case. Images shot with the filter showed no vignetting. Even when stacked with the polarizer there was no vignetting. There was also no loss of sharpness! The filters are of very high optical quality as I can't see degradation in the images, even with stacked filters.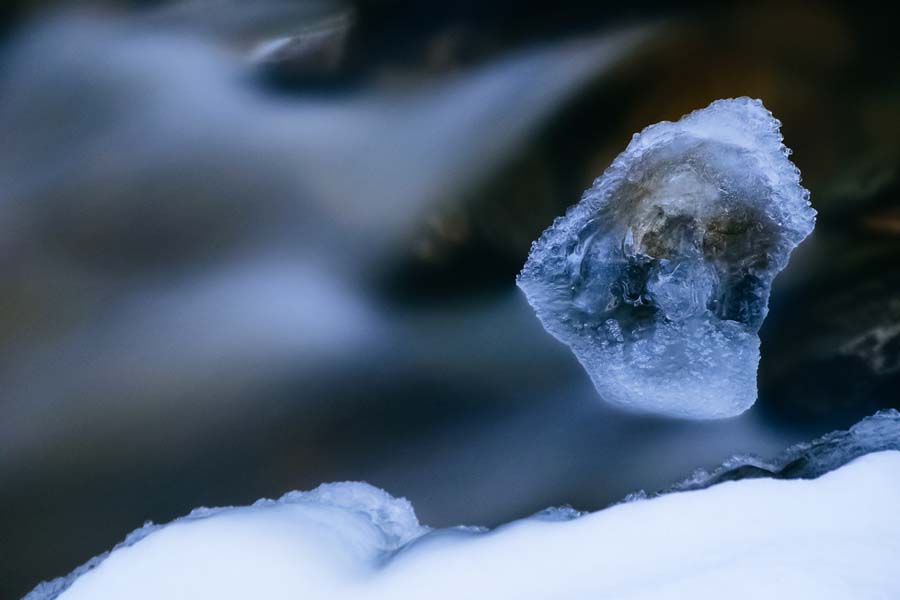 M75 system with polarizer and ND32000.
60 seconds at f4. ISO 1600.
Fujifilm X-H1 with XF18-55mm.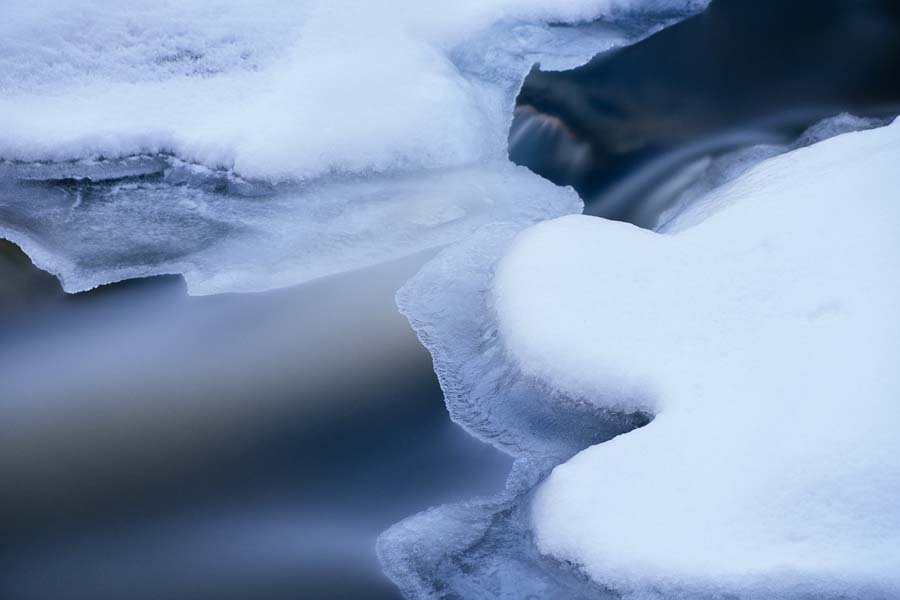 M75 system with polarizer and ND32000.
240 seconds at f4.5. ISO 1000.
Fujifilm X-H1 with XF18-55mm.
Optical quality of the GND's was equally impressive. And again, stacked with the polarizer and/or the ND32000 there was no visible loss of image quality.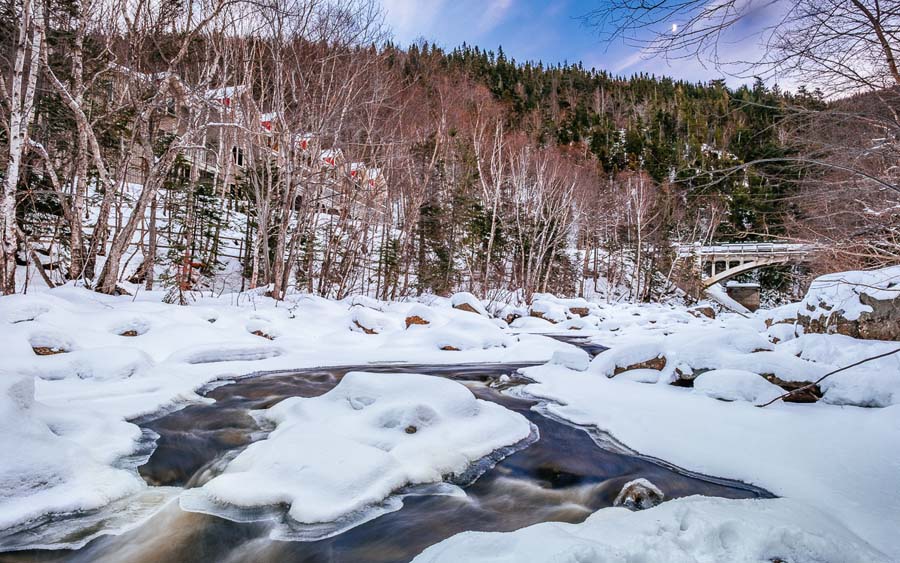 M75 system with polarizer and soft transition GND 0.6.
1.7 seconds at f16. ISO 200.
Fujifilm X-H1 and XF14mm f2.8.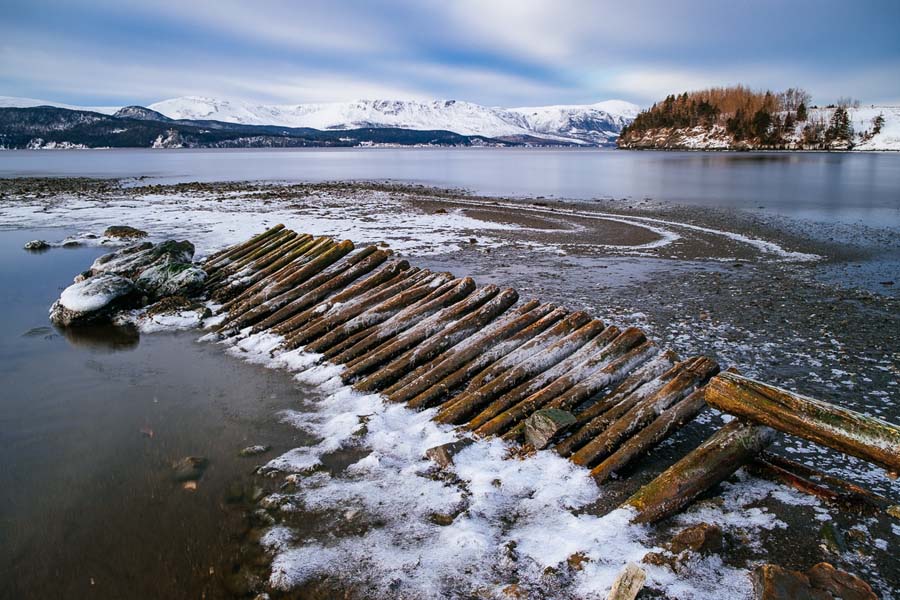 M75 system with polarizer, soft transition GND 0.6, and ND32000.
240 seconds at f5.6. ISO 200.
Fujifilm X-H1 and XF18-55mm.
One issue i had with the M75 system is that a few times i slid in a filter and without me knowing the bottom of the filter did sit correctly in the track, putting the filter at a slight angle. I didn't notice until i reviewed the images. I could tell immediately something went wrong. The images would be quite unsharp, full of ghosting and other artifacts from the crooked glass and blowing snow that was able to get under the filter. After this happened a few times i began to pay attention to the bottom edge as i slid it in the filter holder and i no longer had the problem.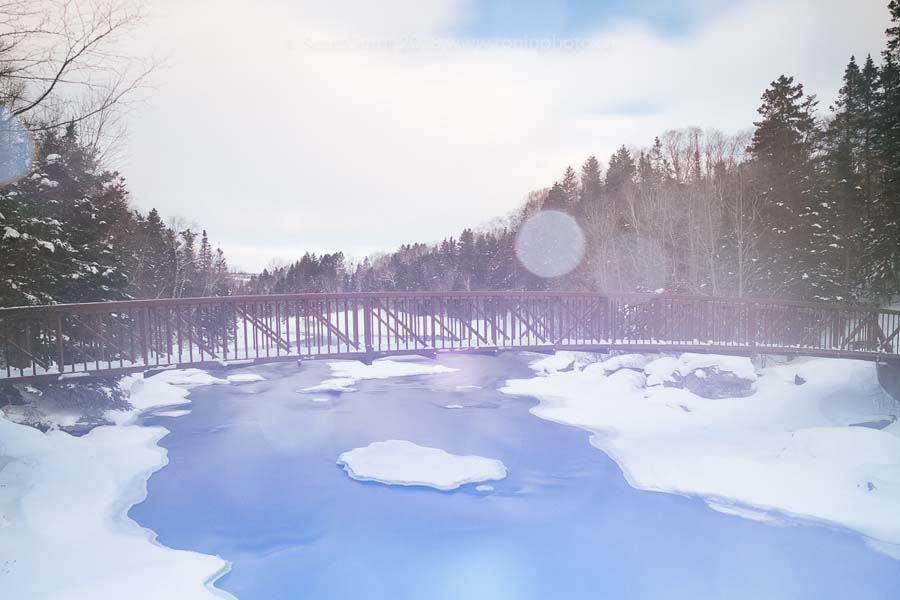 User error! Make sure the slide in filters are in the tracks as they should be or you'll get something along these lines; contrast and sharpness goes out the door. The white blobs are out of focus snowflakes that got under the misaligned filter. Make sure you pay attention to the fitment of the filters and you won't have this issue.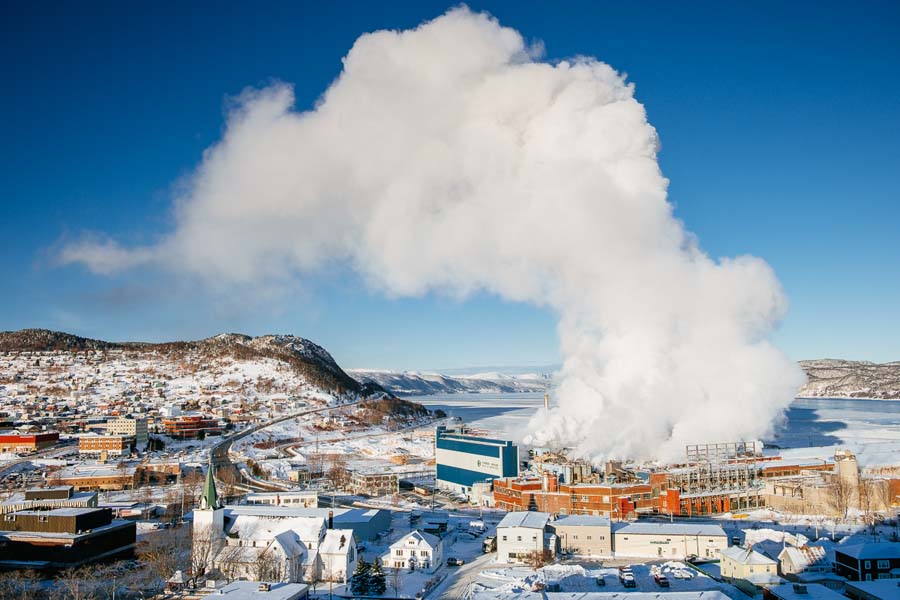 M75 system with polarizer and soft transition GND 0.6.
1/250th at f5.6. ISO 200.
Fujifilm X-H1 and XF18-55mm.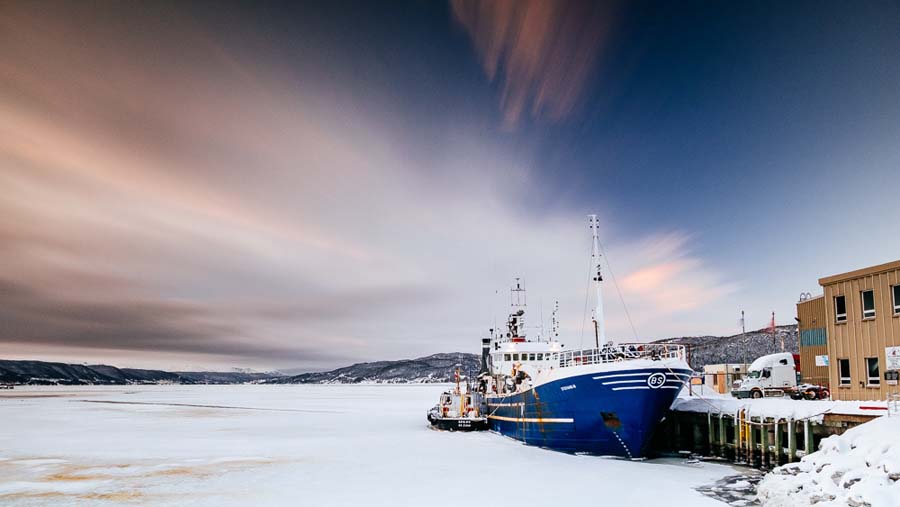 M75 system with polarizer, Soft transition GND 0.6 and ND32000.
480 seconds at f3.5. ISO 400.
Fujifilm X-H1 and XF18-55mm.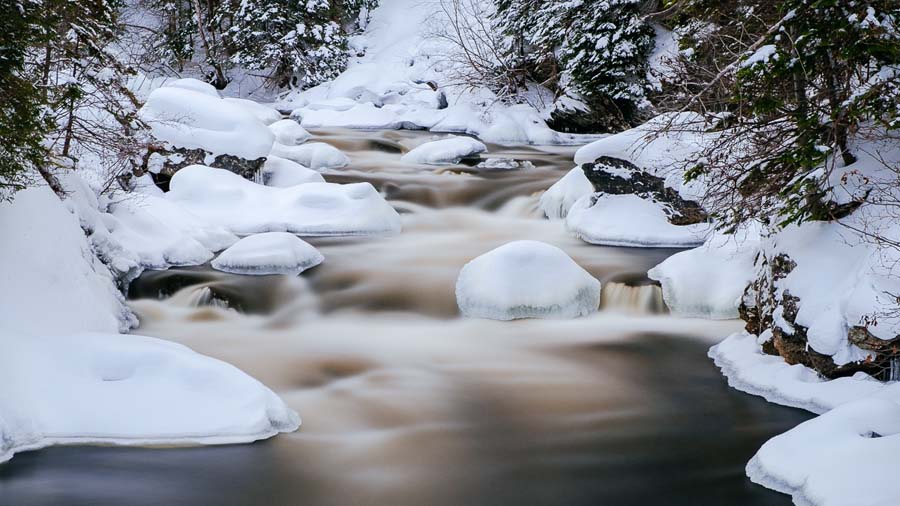 M75 system with polarizer and ND32000.
120 seconds at f5. ISO 400.
Fujifilm X-H1 and XF18-55mm.
A few mornings ago i got out early to photograph from a high vantage point overlooking the city i live near on a rare sunny winter morning. When i arrived there was another photographer shouldering his kit in a backpack. After we took our photos he asked me what i was using for kit. I told him i was out that morning with just two small Fujinon lenses, the XF14mm and the XF18-55mm and an X-H1 body. On my shoulder i had a tiny camera bag measuring 6 inches tall by 6 wide by 4 inches thick. I had the M75 system inside the bag with one of the two lenses. I carried my tripod and camera with the other lens attached. Without the tripod i would estimate the gear to weight just 3 lbs or so. To be able to leave for a morning of landscape photography with such a small kit is very refreshing. I spent way too many years lugging a massive backpack full of gear around. I'm now seriously considering re-purchasing the Fujinon XF 55-200mm to round out a very pleasant, small, lightweight landscape kit. The NiSi M75 filter system would be the topping on the cake and combined would make a great landscape kit, especially good for hiking or traveling!
Overall I'm very impressed with the NiSi M75 system and would recommend it to anyone photographing with smaller lenses and are looking to improve their landscape images!
Author:Scott Grant