Nowadays a photographer has diverse options in regard to technical equipment. Various brands offer different systems and solutions; beginning with cameras and lenses, continuing with tripods, backpacks, remote controls plus other accessoires and ending with monitors as well as other important elements when it comes to post processing. Especially in the professional landscape photography business filters belong to the basic equipment, too. These optical devices enable the realization of creative ideas, improve the workflow in the field and in the post production, as they save time you might need for complex retouching. There are different types and brands and for many photographers the question about the most suitable system arises sooner or later. During my recent trip through Northern Norway I had the pleasure to test the filter system by NiSi and want to share my experiences in this review.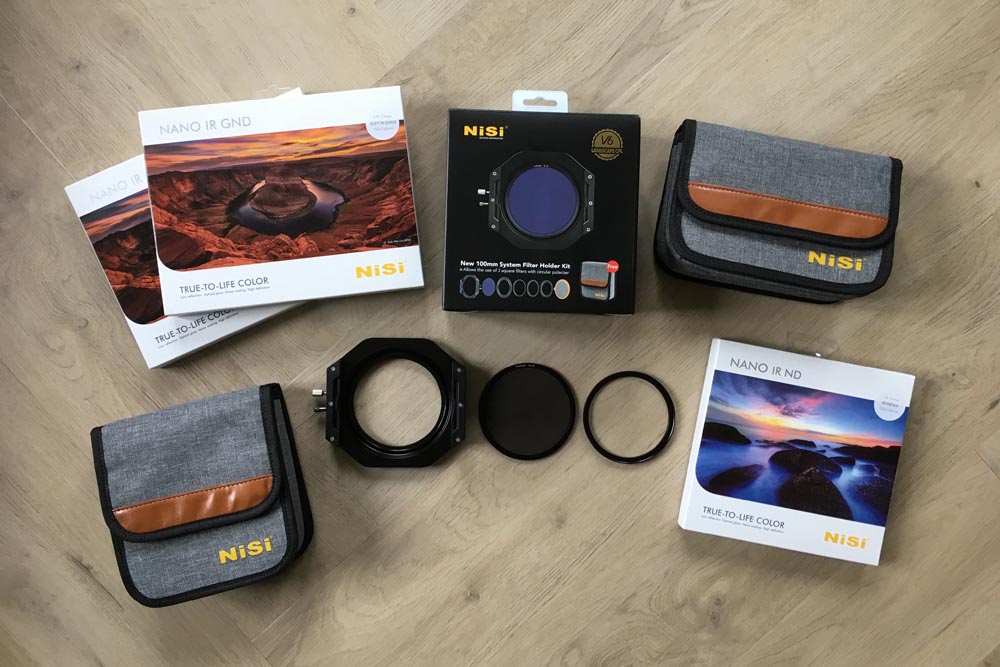 Overview over the NiSi systems
The chinese brand NiSi has become established as top label and belongs to the market leaders in this industry, together with Haida, Formatt Hitech and Lucroit. The innovative and high-quality system by NiSi is available for different models regarding filter size and type of lens on which it is attached. The photographer can choose between four different systems and every of these provide a range of various filters for specific sizes. Here's a short overview:
75mm system: suitable for lenses with small filter thread range, for instance mirrorless cameras. The filter size is 75x80mm and 75x100mm.
100mm system: extremely versatilely usable, compatible with numerous lenses, size 100x100mm and 100x150mm.
150mm system: suitable for ultra wide-angle lenses, 150mmx150mm and 150x170mm.
180mm system: purpose-built for uw-lenses with fixed lens hood, 180x180mm, 180x210mm.
In my review I will focus on the 100mm system, which I mostly used in combination with my Canon EF 1635mm f/4 wide-angle lens.
Available filters
For each system NiSi provides a wide sprectrum of filters with different strength: ND, GND, CPL and Natural Night Filters. All these filters are aiming for a qualitative improvement of the image already when taking it. Creative effects can be achieved and the efforts in post production might be decreased. Here's an overview:
ND (neutral density) filters are darkened glass which are used to lengthen the shutter speed in order to achieve effects that are not reproduceable by post processing alone or cannot be recognized by the human eye. To give an example: dynamic movements like water or waves can be smoothed out. NiSi offers ND filters from one to 20 stops.
GND (graduated neutral density) filters are pieces of glass which are darkened at one end in order to level out differences in brightness and prevent that one part of the image is over- or underexposed. This means that this filter assists with capturing the dynamic range of a scene. The transition in the middle of the filter can be soft, medium, hard or reverse. NiSi offers soft GND filters with strength 0.3, 0.6, 0.9, 1.2 and 1.5 (1-5 stops), medium GND's with strength 0.6, 0.9 and 1.2 as well as hard GND's with strength 0.6 and 0.9. The reverse edged have the darkest part of the filter at the transition point. They have a specific use for shooting the the light source where the light is harshest at the horizon and tapers off towards the sky (e.g. sunsets). These are available with strength 0.6, 0.9 and 1.2.
CPL (circular polarization) filters cut out reflections and deepens natural colors of a scene. As this type of filter is not rectangular but rounded, it can be rotated, which changes the direction of polarization and allows the perfect adjustment of the filter regarding the circumstances on location.
Natural Night filters block wavelengths of light that commonly causes light pollution. They are best used for astrophotography or city- and landscapephotgraphy at night.
From left to right: NiSi V6 Filterholder, adapter with integrated CPL, 0.9 Soft GND, 0.9 Reverse GND, 1.8 ND
Delivery Content
Now the review! I had the pleasure to test the brandnew V6-filterholder of the 100mm system together with three filters of my own choice. Here I went for a 0.9 soft and reverse GND and a 1.8 ND filter, as with this setup I feel well-equipped for most situations. The CPL filter is already included in the V6 filterholder, so I'm covered with this type of filter, too. The products were delivered directly from China to Norway (where I was living at that time) and came within 10 days. The filters itselves were packed separately in a classy lether pouch and from the beginning they made a really high-quality impression. NiSi even provided a practical storage pouch for up to ten filters for free. The V6 filterholder got its own pocket, too. Three adapter rings to attach the filterholder to the filter thread of the lens were also included.
System
The complete system can be easily attached to the lens and is as simple as clever. In case your lens doesn't have a standard 82mm thread range you use one of the adapter rings. In my case 77mm for the Canon EF 16-35mm f/4 wide-angle lens. The main adapter is mounted next. The round CPL filter can be integrated into the main adapter, which for me is an absolute highlight of the whole system as you can use rectangle and round filters at the same time. Last but not least the V6 filterholder is attached to the main adapter. The holder itself consists of high-quality aluminum and has a locking screw in order to fix the whole system to the lens – bombproof. Nevertheless it's possible to rotate it 360° which allows maximal flexibility. The CPL can also be easily rotated (two small wheels at the back of the holder) to perfectly adjust it regarding the scenery. The filters are manufactured of optical glass and high-quality, nano-coated on both sides (to prevent reflections) and easy to clean. They are inserted in the filter slots of plastic and can be moved smoothly without having to abstain from stability. The V6 filterholder even allows you to use filters of the same size from a different brand you might already own as the fit in the slots as well. Altogether there's space for up to three rectangular filters plus the rounded CPL.
In the field the filter system by NiSi performs great, the installation works fast and secure. Especially when shooting directly into the sun only a small amount of lens flares through reflection is noticeable. That's great for me because I had quite some issues to remove these distracting elements with the system I used earlier. But what I definitely liked the most about the NiSi filters is their water-repllent surface! Especially when shooting at waterfalls or during rain simply it's not possible to fully avoid water drops hitting the filters, but due to the nano-coating it's super easy to clean them without any smears or residues. The rounded edges for easy and comfortable attachment to the holder as well as the high scratch resistance are also worth mentioning. Especially these little finesses make photography so much easier and more comfortable! The optical quality of the filters is all in all convincing, I only noticed a very slight color-cast to green (GND) or rather magenta (ND). But this only becomes noticeable when directly comparing the with/without filter image and isn't too annoying at all. Furthermore it needs just one click to correct the color-cast in post processing without any problems. All tested filters didn't have a negative impact at all regarding the image quality. They can be used promptly and without any loss of detail or sharpness.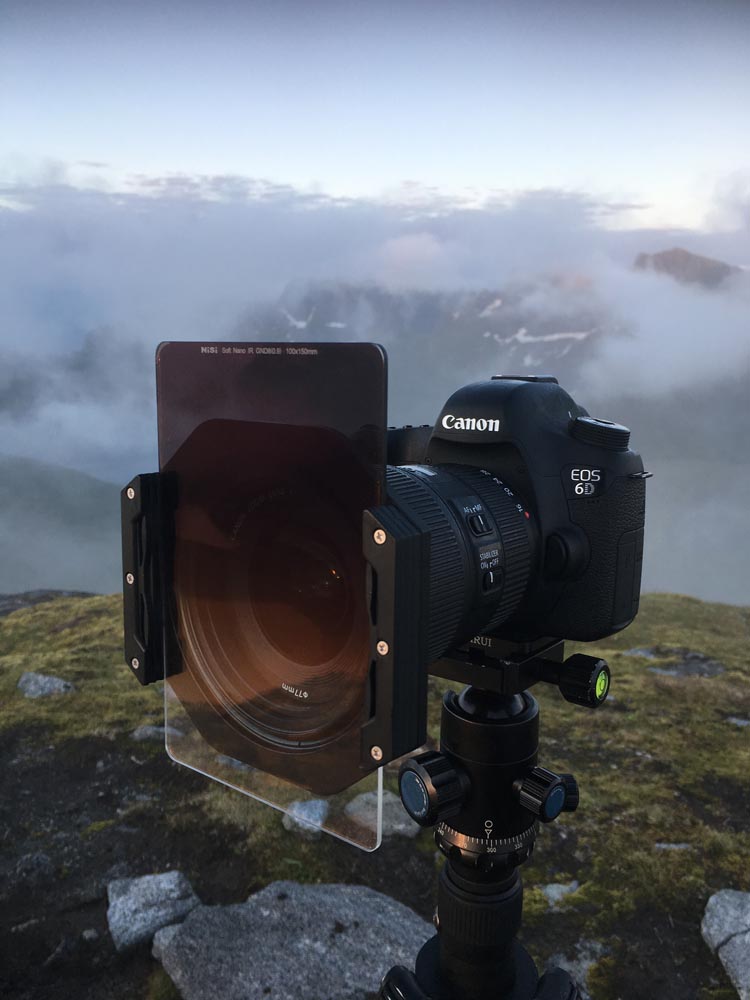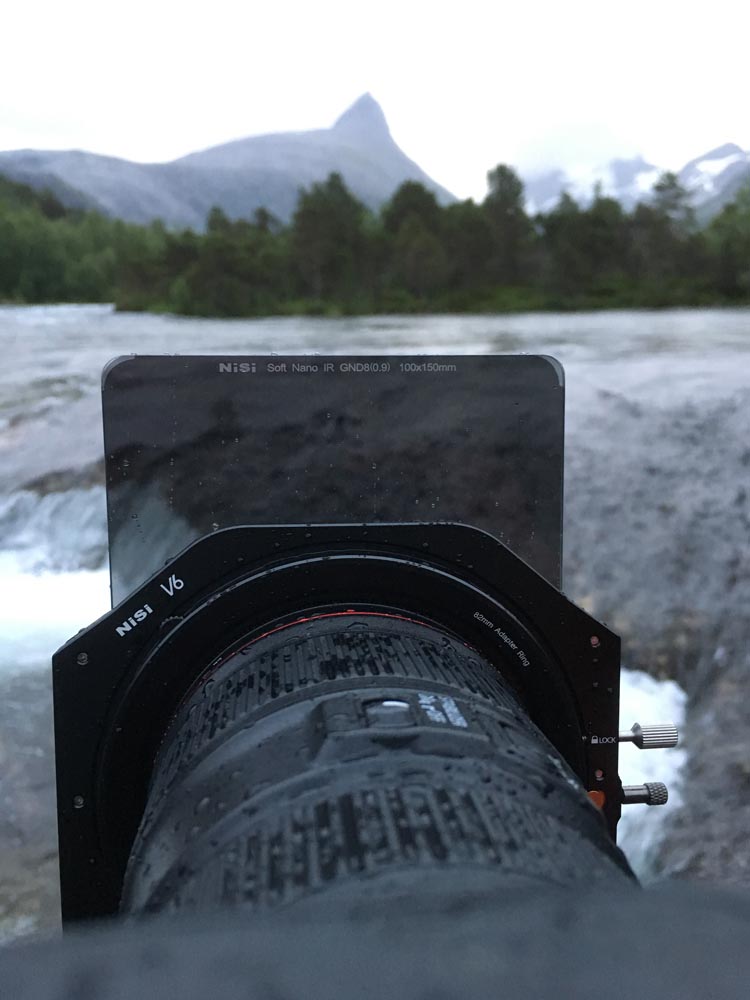 Conclusion
Altogether I'm excited about the tested filter system, NiSi covinced me with the quality of their products and I can definitely recommend them. The system offers many highlights as well as easy and innovative solutions. Moreover it makes a sturdy and durable impression. The handling is intuitive and without any problems. The complete V6 filder system is a professional and high-quality product which supports the photographer to implement one's creative ideas.
Behind the scenes: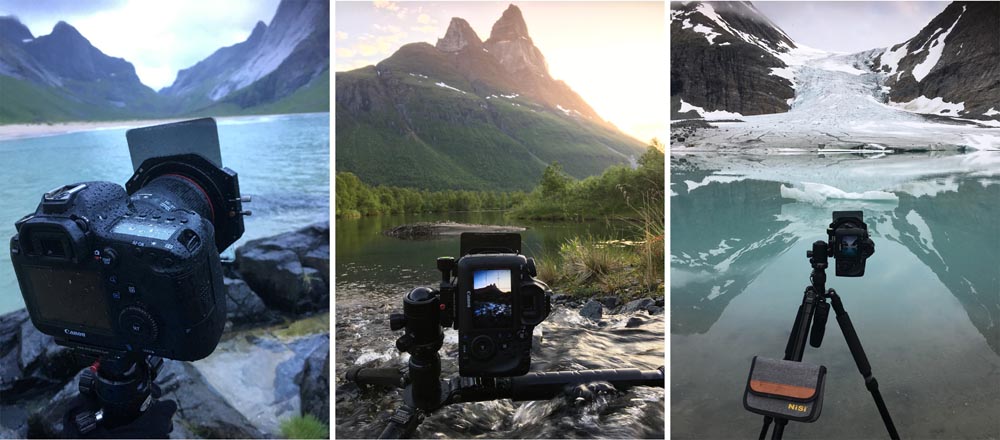 During my travels through Northern Norway in July 2019 the NiSi system was always by my side. Under quite adverse conditions the filters had to prove their suitability and passed the hardness test with flying colors!
Pictures taken with the NiSi system: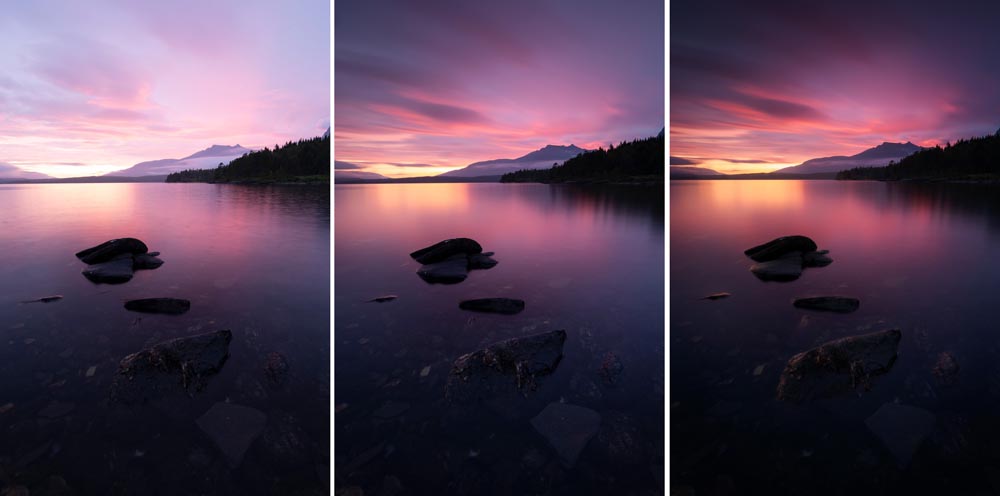 Left: picture without filter, 0.8 sec, f/11, ISO 200
Middle: picture with NiSi Nano IR 0.9 Soft GND + NiSi Nano IR 1.8 ND, 150 sec, f/16, ISO 200
Right: picture with filters after the final post processing
Left: picture without filter, 1.0 sec, f/16, ISO 100
Middle: picture with NiSi Nano IR 0.9 Soft GND, 1.3 sec, f/16, ISO 100
Right: picture with filter after the final post processing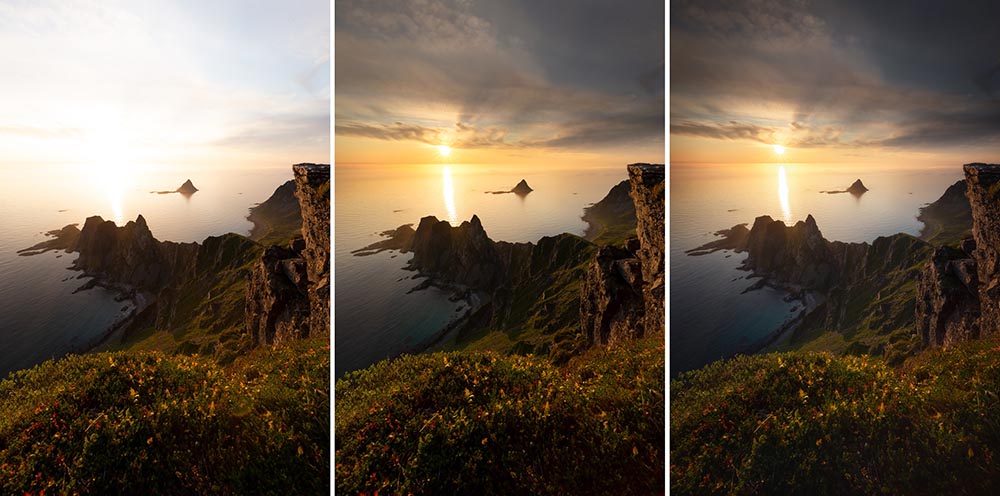 Left: picture without filter, 1/13 sec, f/16, ISO 100
Middle: picture with NiSi Nano IR 0.9 Reverse GND, 1/13 sec, f/16, ISO 100
Right: picture with filter after the final post processing