Fabio Antenore is a Swiss landscape photographer who has won multiple international awards. He spends most of his time either close to home in the Swiss mountains or travelling far abroad to live his passion for landscape photography. In his photographs, Fabio wants his images to reflect the emotions of nature and thus bring the viewer closer to the beauty of our planet. Many of his works combine the imposing Milky Way with mountain scenery or wild waters. Compositions of cityscapes, macro and elaborate models are also among his strengths.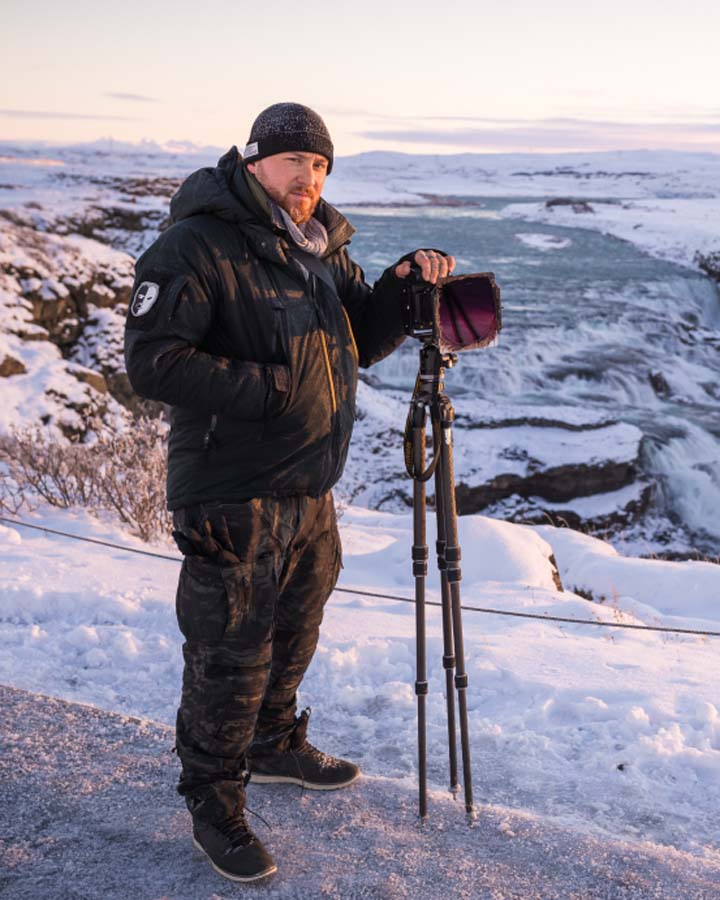 Fabio in Iceland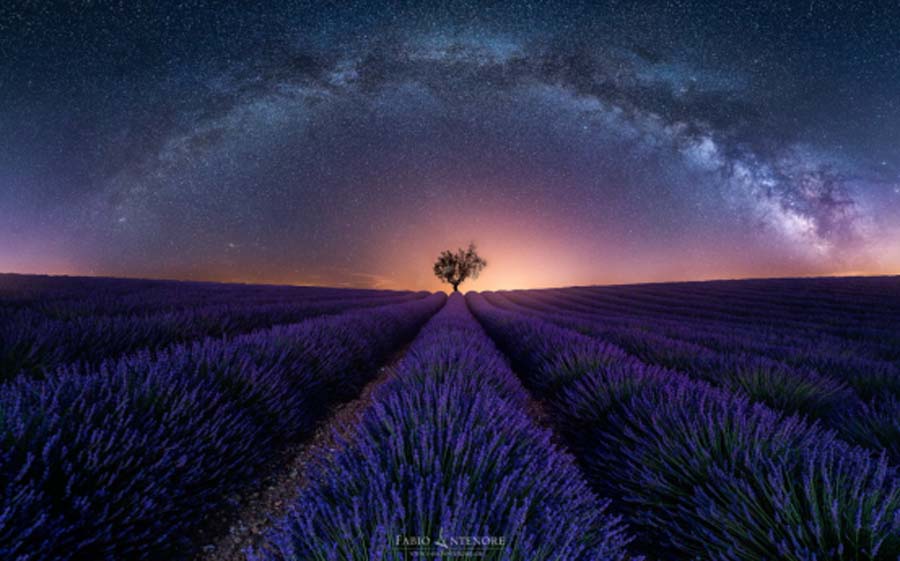 Purple Arch
Won the FIAP Gold medal in Creative category
at International Salon of Photography Photo Artist 2016.
Fabio works mostly with so-called "Time-blending" to create a hyperreal image of nature. He often spends long hours in the same place to capture frames of different lighting moods and then combines them in post processing. In this interview, Fabio generously shares his photographic experiences and excellent works. NiSi really appreciates the time he sacrificed from his busy schedule to share these words.
Z for Zoe and F for Fabio
Z: Hi Fabio, it's an honor to meet you! Please feel free to talk! Firstly, could you introduce yourself?
F: As a modern landscape photographer, my motivation is to transport the feelings of nature through a photograph. That's why I often spend hours and days at the most beautiful places on earth. I have specialized in creating hyperreal landscapes and night photographs which distinguishes me from the majority of the other landscape photographers.
Time-blendings form an integral part of my work and it is a technique which offers the opportunity to extend a moment to several minutes and hours. The technique serves as a catalyst and allows the sum of the impressions to be condensed in a single image. It's not just 1/200 of a second that makes up the magic of a sunset or a night full of northern lights. The feeling of a picture is the most important component and the technical possibilities of a camera should not restrict me.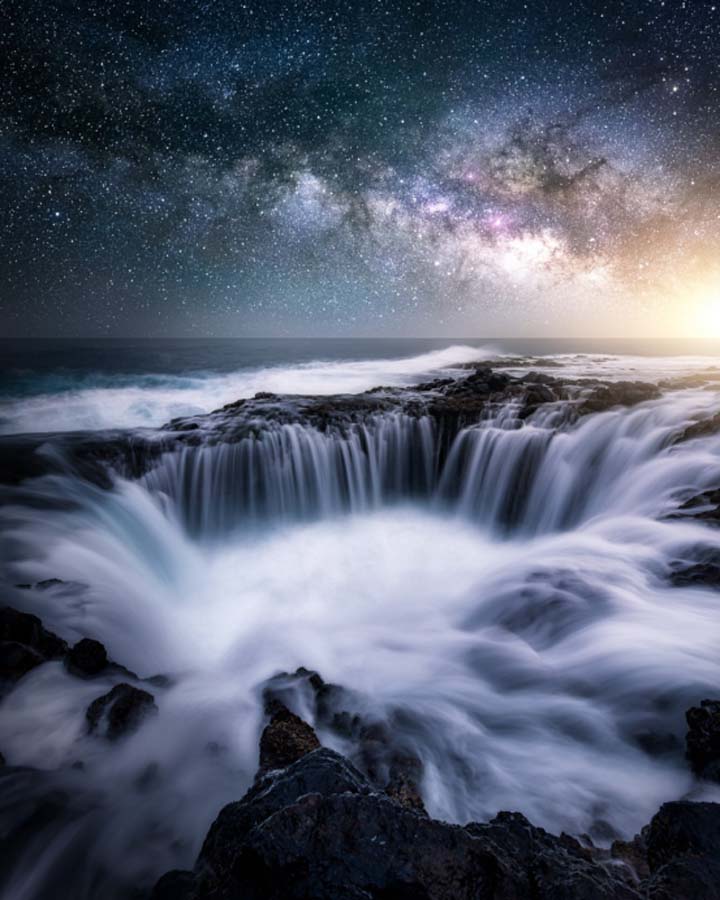 Taken in Spain
Under the umbrella "The Landscape Project", I am teaching my techniques in workshops and on photo tours organized incorporation different national and international providers.
As a speaker on many photography events in the German area, I try to combine teaching my photography secrets with a "show" that gives the audience a different experience to other photographers. I even released the first 2 parts of a German video tutorial series through my website in which I try to show all my techniques. The English version will be released in the first quarter of 2019.
As a freelance employee of Falk Media AG and through numerous publications in worldwide photography magazines, my visual material can also be admired in print.
Z: When did you start taking pictures? What sparked your interest in photography?
F: I started in 2013 I guess. I bought my first camera to take behind-the-scene pictures on a music video shooting I produced for a singer. In the first part of my life, I was a music producer and audio engineer. I worked as a live engineer (mixing concerts) for many years and I was the founder and main engineer of a music studio corporation in Switzerland.
It was never my plan to change my profession because until then I was living my dream. I loved my job. The only "problem" was, I was not the "most talented". Of course, I did an ok job, but everything was a fight for me. I saw other producers around me, and they just made everything look easy, with no hard work. I worked so hard to reach the same level, but I never reached the top level.
Photography was "love at first sight". It was the first time in my life I felt the power of "talent". Now I was the guy who can do it without having a hard time! Everything was just easy for me. And as one thing led to another, I progressively used all of my free time to take pictures.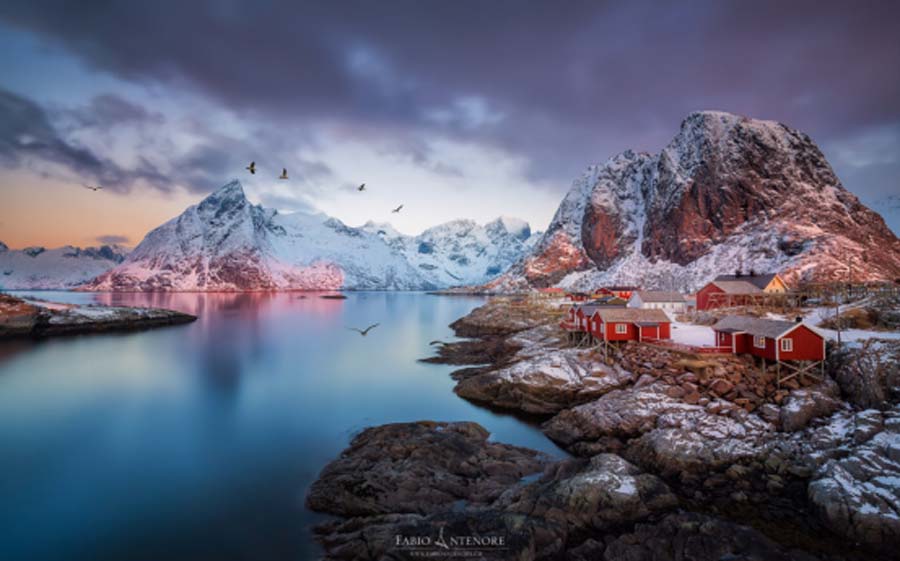 Taken in Norway
I guess my view was, that it was normal for me as an audio engineer to work with software on raw material. It was clear that after shooting the process is still not done. So I started to create my techniques. 5 years ago I was the only one who worked with time-blendings and other techniques I created in the whole German area. I created a style I called "Hyperreal Landscape Photography". This designation was my vision, and it makes me proud to see how many people using it now.
After a short time, people asked me if I want to run some workshops because they want to learn my style. So in 2015, I started to run my first workshops. It was just like a hobby at the beginning. But since the middle of 2017, I changed my whole life and started to work as a professional photographer and photography teacher.
Z: Do you have any unforgettable places or stories in your photography career?
F: There are so many unforgettable places and stories. It is one of the greatest things in life as a photographer that your whole life is an adventure. It is all about dreaming and letting the dreams come true! Like Iceland. Iceland was my biggest dream to visit at the beginning of my photography career. It is a place that is totally different to anywhere else. I remember my first time there was so unreal! I love waterfalls. I have visited many in Switzerland and Germany but waterfalls in Iceland are different. Here in Switzerland, sometimes we hike many hours to reach one. But if you compare that with one in Iceland you won't go back to some of the waterfalls here. Even the small ones by the road are so much bigger! Iceland is like the paradise for landscape photographers. And this is why I have visited Iceland maybe 10 times in the last few years. I even run at least 2 workshops every year in Iceland.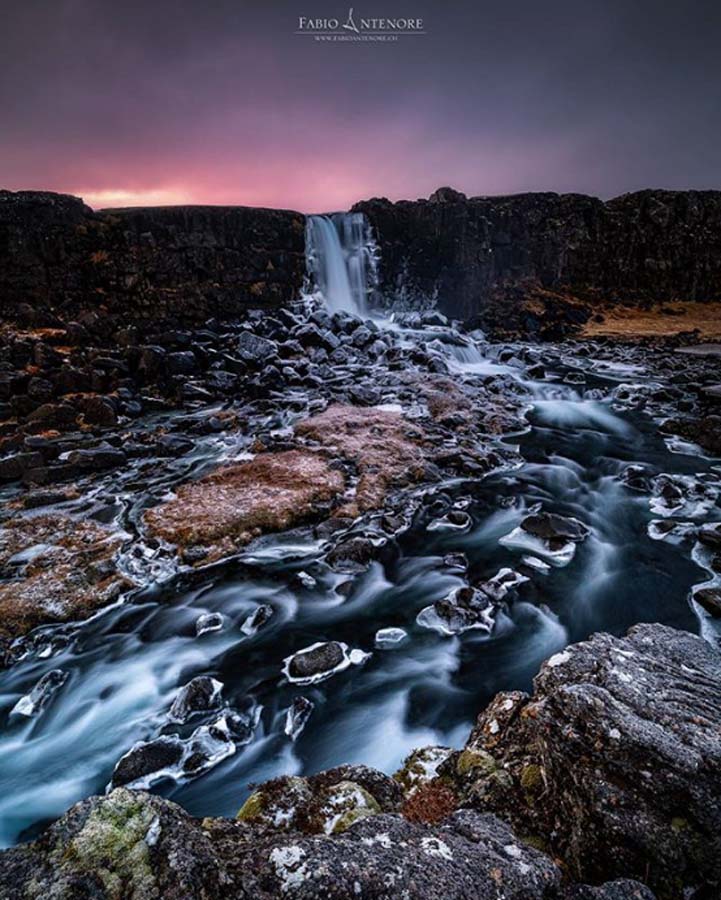 Taken in Iceland
With NiSi polarizer, Medium GND 8, IR ND 64
Another big dream was the US west coast. There are so many breathtaking spots. I dreamed for a long time to visit the area. Last year I also made that dream come true. I was there for a full month. The whole coast from Big Sur to Oregon is just like heaven. You have seascapes, deserts, redwood forests, mountains, rivers, waterfalls and so on. Even the spirit is different in the US.
I guess being in the US changed my mind. In Switzerland they always try to do everything perfectly, but nothing more. They don't want to make it big. Just as good as it needs. I don't like that way of life for myself. In the US they want to do everything big! Just perfect is not enough. Perfect is just the beginning of making it even better, and better, and better! As big as possible! And that is 100% how I think! Just good is not good enough! Try always to find a way to make something better than you already know it!
Taken in Smith Rock State Park
Z: What is the best professional advice you've ever received?
F: Hmm, good question. I guess it is a saying from my time as an audio engineer: "Shit in shit out". I had a mentor in my early years, and he said this to me. It means try always to make everything as perfect as you can! For example, when you are shooting and there is something not perfect, try to find a solution to fix it right now. I see many people shooting a picture are too lazy to maybe change the filters for a better result or take more time to find the perfect composition or wait for the right light, because they have a cold and want to go home and so on. But if a picture is not as perfect as possible without using photoshop, it would never be perfect after. Photoshop is just a way to let a great picture shine. A bad picture is also a bad picture after photoshop! Shit in shit out!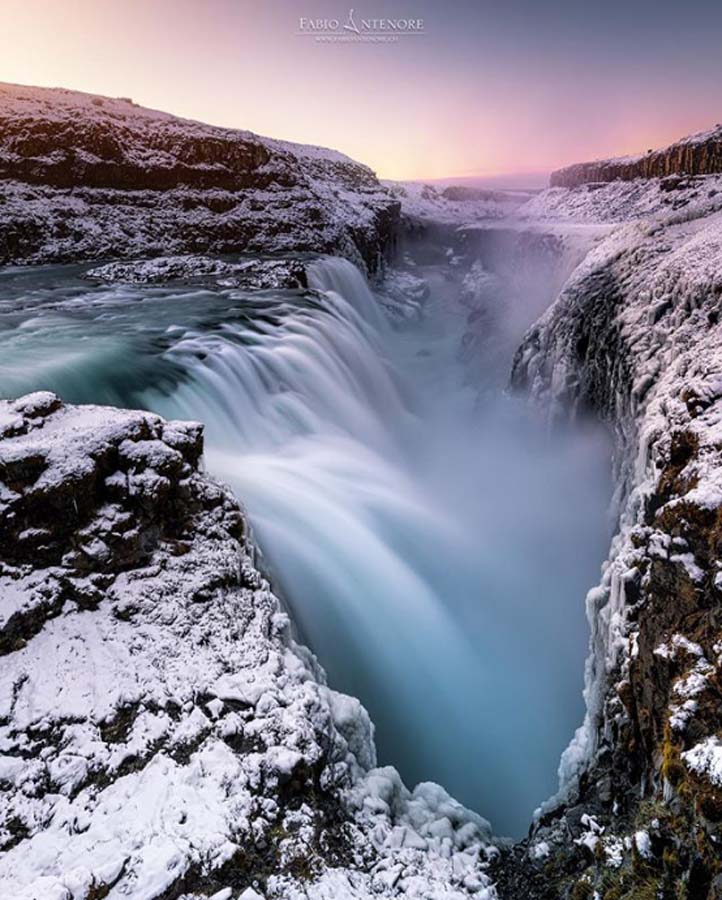 Taken in Iceland
With NiSi S5 holder, polarizer, GND 0.9
Z: When did you start using NiSi filters and why?
F: I guess the first NiSi filter I used maybe 2 years ago. But it was not mine. At that time I used another brand. The problem was, I was never satisfied with the holder. I used many different holders from different brands, but I was never completely happy with them.
On my workshops, I had clients with NiSi filters from time to time. I saw the 150mm holder and thought by myself, "someday I have to try it". And as luck would have it, I was able to test a NiSi system once. It was the first time I had a totally perfect filter system in my hands. All the issues I had with the other brands are solved in the NiSi system. And the best thing about it is that the polarizer is in the holder. So I don't need to use a slot in the holder to use it. And I can change the polarisation little by little and not just 90 degrees. It is a totally new way to work!
From that moment it was clear that I have to start working with NiSi.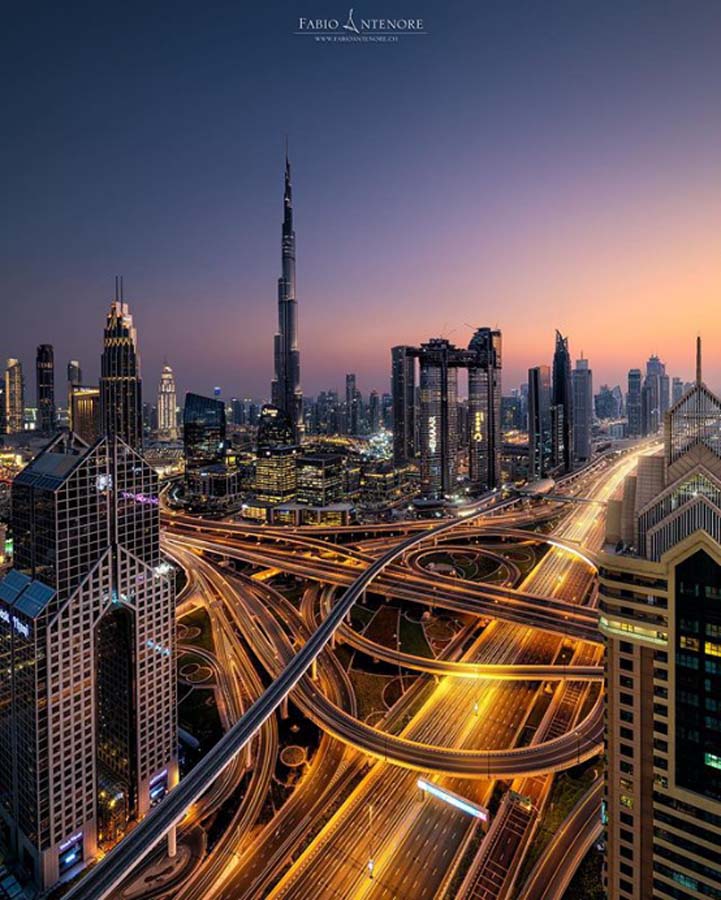 Taken in Dubai
With NiSi V5 holder, polarizer, GND 0.9
Z: Which NiSi products do you usually use in your work?
F: I use the S5 150mm holder and nearly all ND filters. ND 0.9, 1.8, 3.0, 4.5 and GND 0.9.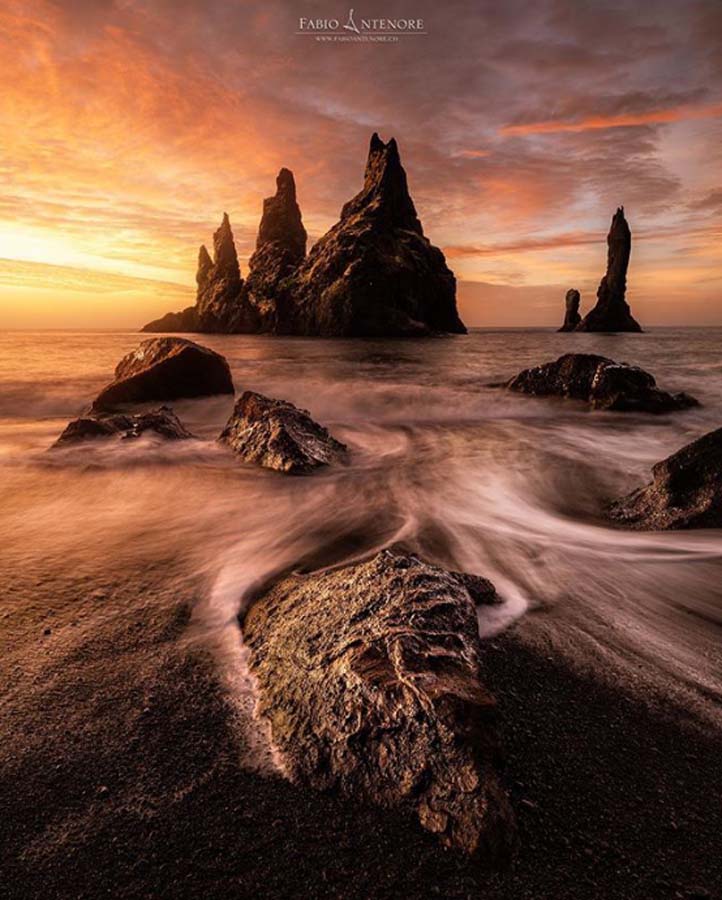 Taken in Iceland
With NiSi S5 holder, polarizer, GND 0.9
Z: Among all the photos you took with NiSi filters, which one is your favorite? How did you take it?
F: I guess I do not have a favorite. Someday I like this, and the next day I like that. It is all about how I feel.
But if I have to decide one (or two), it would be "Limides in Pink" or "Quiet Morning". The one from Limides, because I had visited so many times and never had a perfect mood. And this was the first time I really loved the result. And "Quiet Morning" because it was one of those moments you try to do something and Mother Nature forces you to change your plan. My goal for that morning was to shoot the colors of the sunrise with the first light on the mountain peaks above the autumn colored trees and a little bit of fog on the water. Unfortunately, the fog was so strong that I didn't see the trees. At first, I was really unhappy about that. Then I changed my plan. I used a stronger filter (ND 3) and decided to shoot a high key long exposure. In the end, I had a much more unique picture than I planned. So thanks to Mother Nature for forcing me to change my plan.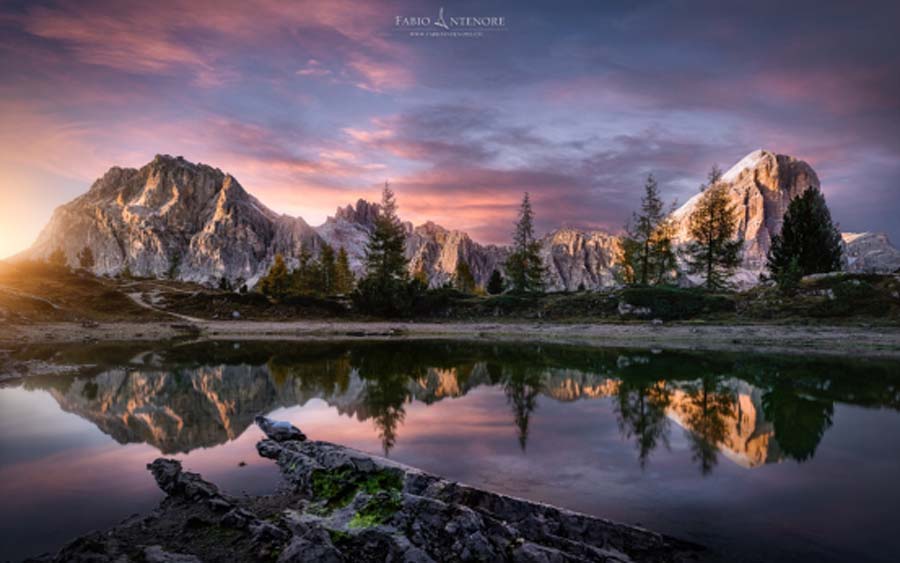 Limides in Pink
Taken in Italy
With NiSi GND 0.9, ND 1000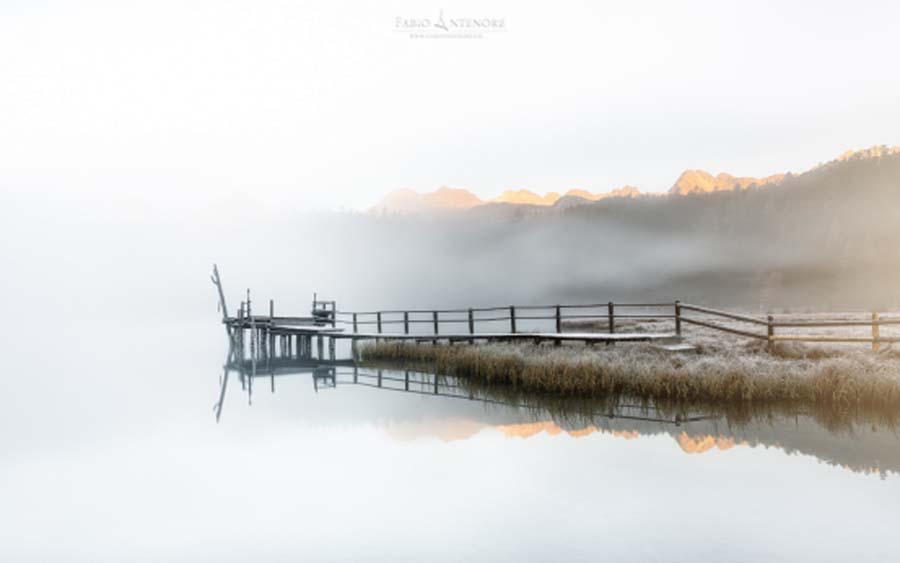 Quiet Morning
Taken in Switzerland
With NiSi GND 0.9, ND 1000
Z: What's your next step in 2019?
F: I have so many plans for 2019. First of all, I want to visit the next of my dream places, like Java, Tasmania, China and so on. But I am not sure what I can reach. (I am open for collaborations if someone has an idea.)
My concrete plans are all my workshops around the world. This includes: Dolomites, Spain, Valensole, Iceland, Lofoten, the Swiss mountains, Tenerife, Italy, Dubai (soon) and so on.
Then I plan to shoot the next parts of my video tutorials and I want to grow that part of my business.
I plan to start working with a really old friend of mine as my sales manager and hope that we can fulfill our plans. I will try to prepare even more speeches for photo fairs in Germany and Austria because most of them are now in Switzerland.