Don't pack the camera before you leave the location
Raymond Mcbride is a passionate landscape photographer based in the UK. He considers himself a self-taught photographer and most of what he learned about photography came from studying photography books, reading through online resources, and absorbing all he could through online photo sharing and critique communities. His landscape images mainly revolve around the spectacular scenery of North West England, North Wales, Snowdonia and the Lake District, and he tries in every image he captures to convey the beauty and drama of the great outdoors. Raymond thinks that using high-quality filters without the color cast and black corners is important for his creative process. It's a great pleasure for NiSi to chat with Raymond and get some of his views on photography and some tips on landscape photography.
Z for Zoe and R for Raymond Mcbride
Z: Hi Raymond! Thanks for being with us here! Firstly, could you share us three random facts about you?
R: I was once a semi professional goalkeeper and played at Wembley Stadium in the 1986 FA Trophy final.
I am an official Runcorn FC (Legend).
I was a keen carp angler, caught many big fishes, which got me into photography, taking the trophy shots!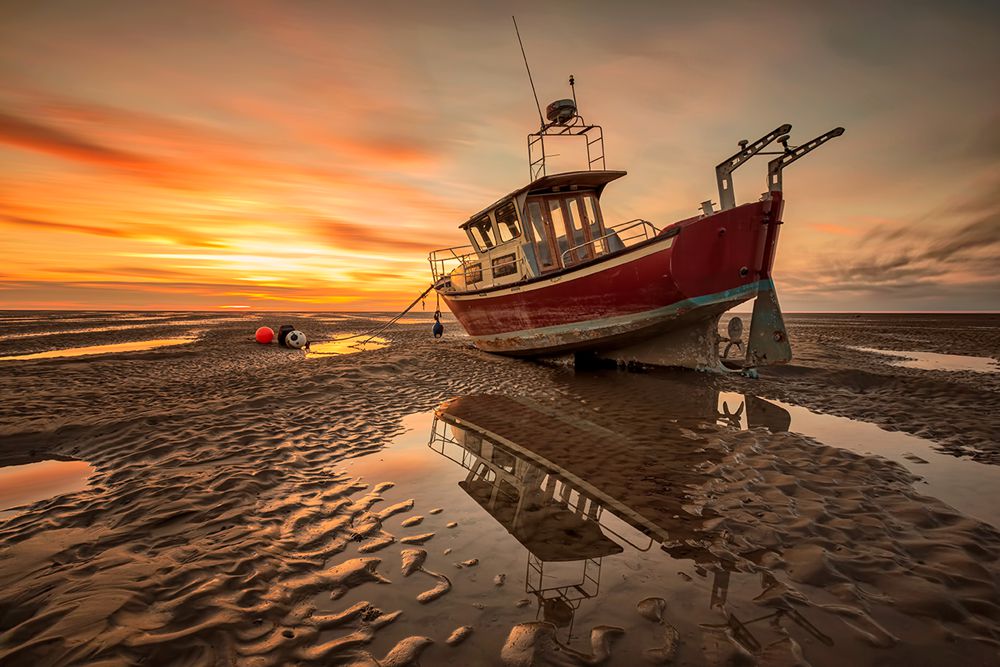 September Sunset
Taken in New Brighton, the US
With NiSi Medium GND (3 Stops) + ND (10 Stops) + Landscape CPL
Z: How did you make your first foray into landscape photography? Could you tell us more about your connection with nature itself?
R: I first fell in love with photography was when I got my first trusty old Canon 350D with the kit lens. There was something about getting out in nature with the challenge of capturing some of the amazing beauty that you see. Perhaps it fits with my personality type. And I loved the quietness and stillness of waiting for the perfect moment for a shot, scoping out an area for the best vantage point and then seeing the way that the light changed a scene over a few hours.
The Gate
Taken in Derwentwater, England
With NiSi Switch holder + Medium GND (4 Stops) + ND (4 Stops)
Z: Do you have guiding principles that you follow when you're making pictures?
R: I am always looking to take my photography to the next level. While improving photography is often about compositional techniques and mastering camera settings, it's a little known fact that the purpose and inspiration behind the photo can also have a significant impact on the resulting image. The best photos don't simply look good, they have a deeper meaning, convey a message, and tell a story.
Simplify
There will be sometimes when you can't capture everything in one shot, don't get frustrated, try to simplify your shot, always pick one main focal point and work around that.
Leading lines
For a photo, few things are worse than conflicting focal points that leave the viewer wondering what the point of it was. For me leading lines take the guesswork out of finding the focal point, and draw the viewer's eyes to the point.
Lighting
For me the lighting can have a big impact on the composition of a photograph. The light can dictate which direction to angle the camera. I always pay attention to the lighting when setting up a photo. How well the lighting is incorporated into a photo can make or break the entire composition.
Take your camera with you everywhere
I'm a firm believer in taking my camera with me everywhere, you can't improve your photography if you don't have your camera with you! It's easy to fantasise about capturing award winning images, but unless you have your camera, this is very unlikely to happen.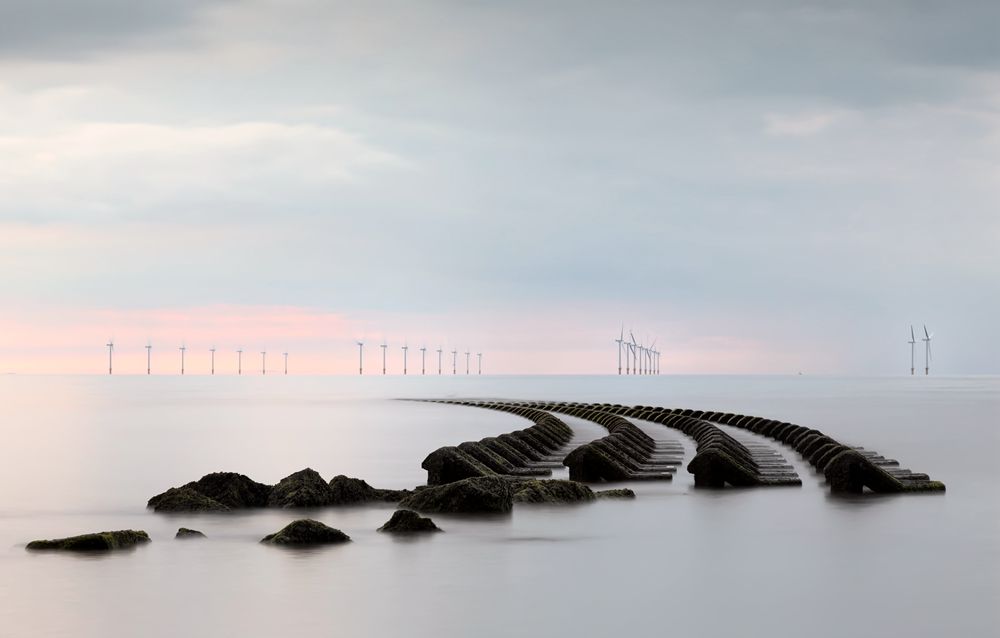 Burbo Bank Wind Turbines
Taken on the North West Coast of the UK
With NiSi V6 holder + Soft GND (3Stops) + ND (6 Stops) + Landscape CPL
Z: What challenges and difficulties have you come across throughout your career?
R: Landscape photography allows me to be outside, surrounded by amazing nature while creating images to remember the experience. However, there are many challenges I have faced over the years and needed to overcome as a landscape photographer. Some of the challenges relate directly to the nature that surrounds you, and others relate to how you go about capturing your images.
Unpredictable weather
Living in the UK certainly throws up some very unpredictable weather. One of the realities of landscape photography is that you have no control over the weather. Maybe you want to photograph the sunset, but it's rainy and overcast with no sun visible. Or maybe you want to photograph a beautiful waterfall secluded in a forest, but harsh sunlight is making the scene less than ideal. Or perhaps a thunderstorm or snowstorm is making it hard or even dangerous to be out. The good news is that there are opportunities in all weather conditions. Whether it is sunny, cloudy, foggy, rainy, stormy or snowing, there all subjects and types of photos that work well with that weather. Just have to be flexible and work with the conditions that are presented.
Creating interesting photos at popular locations
I find a trip to a well known location can be a great experience for a landscape photographer. But those locations have already been photographed by millions of people, so why do we do it? While these epic locations are usually popular for good reasons, the fact that people have already seen so many photos of the scene makes it difficult to stand out from the crowd. Creating something unique and interesting in these types of locations can be challenging. Personally, I don't avoid the overdone, cliched locations at popular spots. Usually, I want a photograph of my own from that spot, it may not get attention or stand out from others, but it's something I enjoy doing myself. Also, I like to make an effort to go further and get more unique shots as well.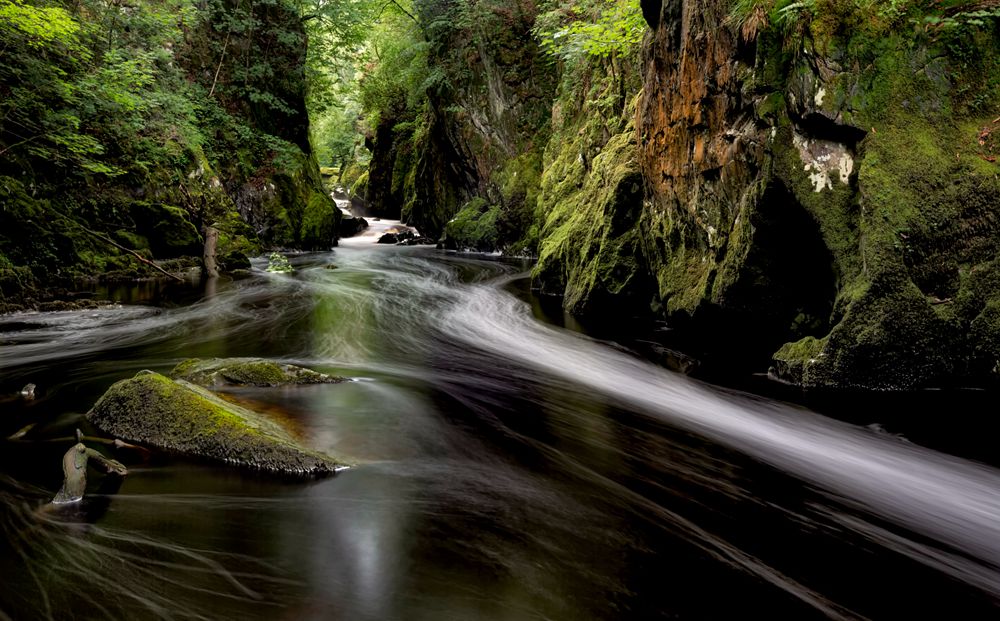 Enchanting Fairy Glen
Taken in Betws-y-Coed, Wales
With NiSi V6 holder + ND (6 Stops) + CPL
Z: When did you start using NiSi filters and why?
R: 5 years ago to be exact, one of my biggest frustrations with the majority of filters I have used over the years was the colour cast, even though it's fairly quick to fix in Lightroom or Camera Raw, it feels unnecessary to repeat this step each time you bring out a 6 or 10 stop ND filter. Even though I initially had no intention of switching from my current filter system. But I would consider it if I found the colour cast to be significantly less and the quality of the glass to be no less. My biggest surprise when taking the first image with my new 10 stop ND filter was there was absolutely no colour cast. This is a big reason why today, more or less, I only have NiSi filters in my camera bag. Another benefit of the NiSi filters is that the filters are of glass and not resin. This makes them more durable, harder to scratch and (most importantly) easier to clean. Living by the sea gives me the opportunity to photograph in some testing weather, the Nano coating makes these filters a breeze to clean the salt spray off, unlike the resin filters were a nightmare to clean.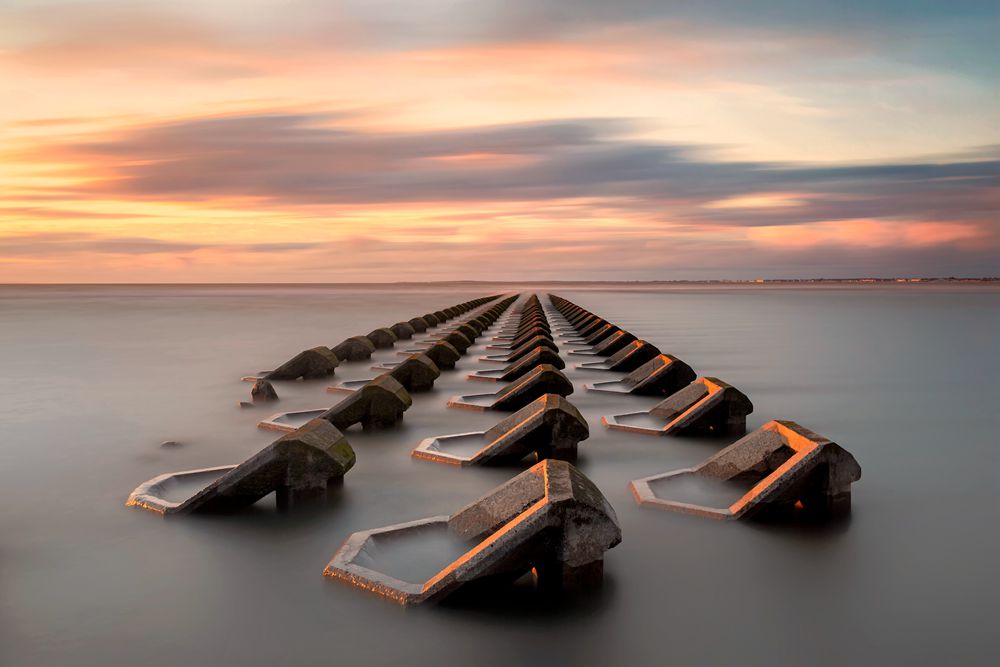 Breakers at Sunset
Featured in the NiSi Fine Art Photography Book (Volume 2)
Taken in the North West of England
With NiSi V6 holder Hard GND (3 Stops) + ND (3 Stops) + CPL
Z: Which NiSi products do you usually use in your work?
R: NiSi V6 holder with Landscape circular polariser;
NiSi Switch holder;
3, 6, 8, 10 stop ND;
3 stop Medium ND Grad and Reverse ND Grad;
Natural Night filter;
Most of my photography is done around the North West Coast of England, which provides me with a variety of excellent subjects to shoot, we have some stunning sunrises and sunsets too. With a vast array of filters at my disposal, I can produce some pleasing images which I am proud of, these could not be achieved without using my NiSi filters.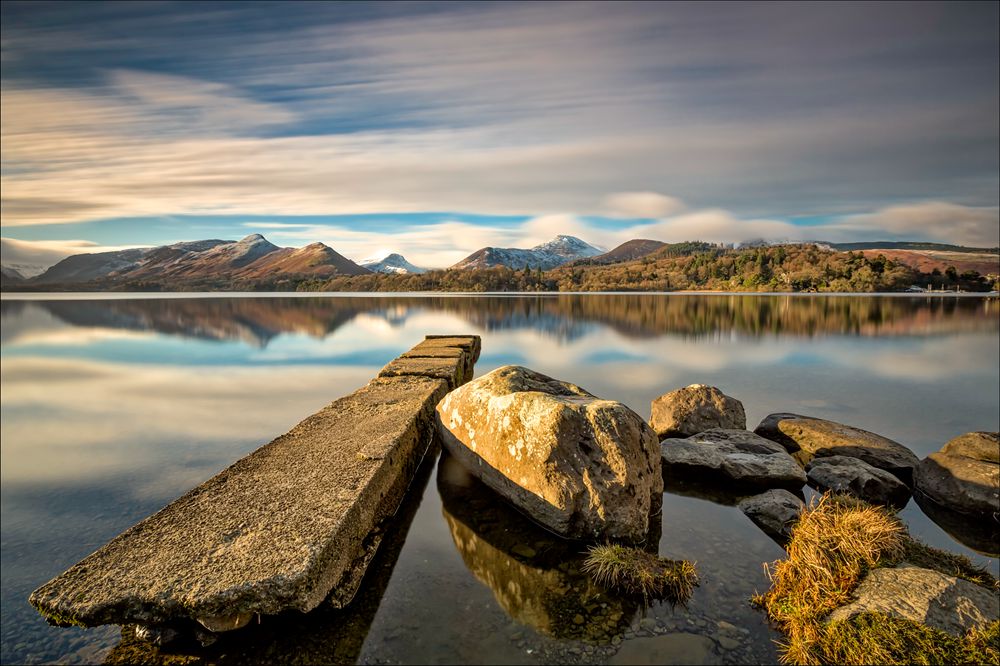 Isthmus Bay
Taken in Cumbria, England
With NiSi V6 holder + Medium GND (3 Stops) + ND (10 Stops) + Landscape CPL
Z: Among all the photos you took with NiSi filters, which one is your favorite? What went into creating it?
R: This is a tricky one because I have so many, but if I have to choose, "Brace" would be my favourite. When you arrive at your favourite beach you never know how many boats are on there or what positions they are facing or how much water is still left on the beach. This particular chosen image was perfect for the conditions, a very low tide give me the opportunity to wade out in shallow water and compose my desired image, this doesn't give me much time as the boats    are grounded below water and the sand becomes visible around 20 minutes   time, a long exposure can be achieved as I look and see no movement. Setting the tripod very low to have the minimal horizon, I am ready to shoot the image, also adding my NiSi V6 holder with a Landscape circular polariser, a 3 stop medium ND Grad and a 10 stop ND filter.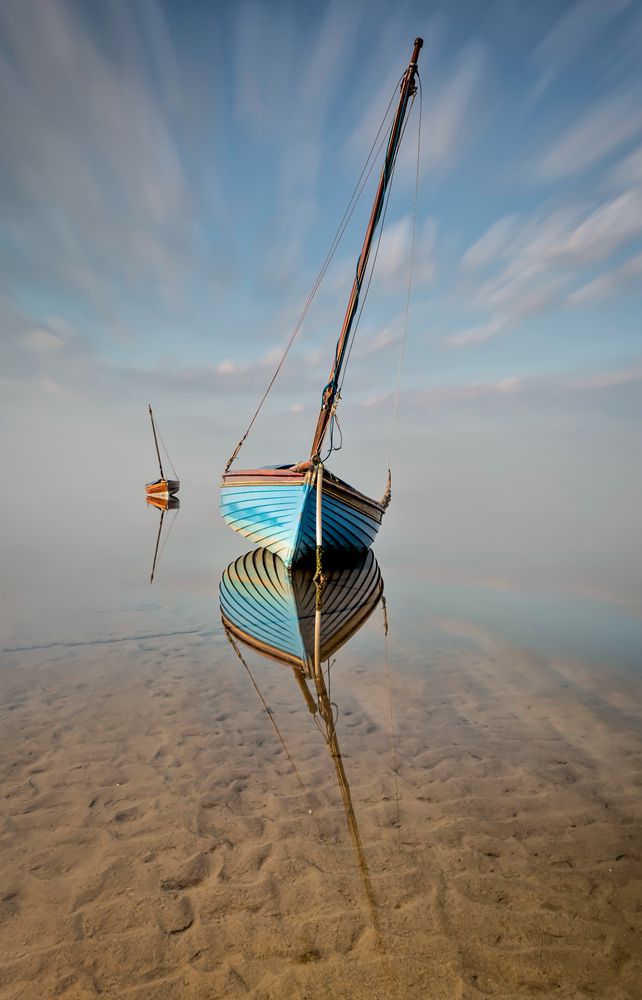 Brace
Taken in the North West of England
With NiSi V6 holder + Medium GND (3 Stops) + ND (10 Stops) + Landscape CPL
Z: Thinking more about the present, are there any things happening in the world of photography now that interest you?
R: Seeing new places, hopefully at there best time. I have recently visited Iceland just before the pandemic Feb 2020 and fell in love with it. Now I have booked again and hopefully get some decent images. Last time I didn't go for the photography, just to check out some of the locations for the next visit.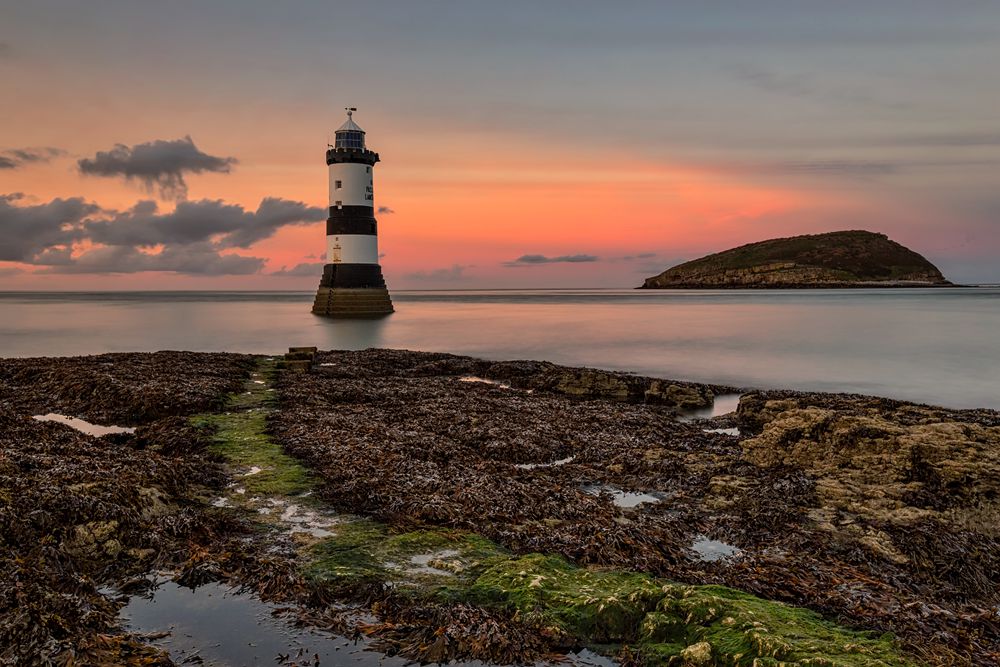 Penmon Sunset
Taken in the North Wales
With NiSi V6 holder + GND (4 Stops) + ND (6 Stops) + Landscape CPL
Z: What plans do you have in the coming months, photographically?
R: I don't need to tell you we are in a pandemic and yes all my photography plans are on hold, but when the government allows us all to mix, I will continue to do my workshops and give people sound advice regarding using filters for their photography.