Hans Gunnar Aslaksen is a designer and enthusiastic landscape photographer living in Larvik, southern Norway. After bringing the camera to picturesque Vøringsfossen in 2016, he was immediately got hooked on landscape photography. As a self-taught photographer, Hans is adept at combining his designer expertise with landscape photography. He always enjoys the time in nature and is eager to dive deeper into the fantastic world of landscape photography.
NiSi has the great pleasure of interviewing Hans about his experience on landscape photography and showcase his extraordinary photos of Norway.
Z for Zoe and H for Hans
Z: Hi Hans! Great to talk with you! To get the readers to know you better, could you share us three interesting things about you that you want others to know?
H: That's a tough one! I will do my best to answer.
I work as a graphic designer in a design agency. That has been a great advantage for my landscape photography. Since I am an educated designer I know the basics behind good compositions and color theory. I use all that knowledge when I am out in the field. Finding compositions comes quite naturally to me, and I guess that I have had an easier path to succeed in landscape photography than others.
I have always been fond of being out in nature. I love the outdoors and have been on a lot of hiking trips with a tent and a fishing pole. Bringing the camera on these trips added a deeper connection to nature for me. These days I am doing more and more pure photography trips.
I am quite introvert as a person and being out in nature with the camera is the perfect way for me to relieve stress. Despite being an introvert I have met a lot of great photographers through Instagram, and I am happy to say that many of them are now my friends. Meeting likeminded people is without a doubt the best thing with social media.
Mølen Fury
Taken in Mølen, Norway
With NiSi Landscape polarizer
Z: What got you interested in photography? How did you switch from a graphic designer to a landscape photographer?
H: I have always had a camera and loved to take more random shots on the trips with friends and family. It was not until a few years ago I got hooked on landscape photography. A buddy of mine is a professional photographer and he asked if I wanted to go on some hiking trips in the local area. We went to some great spots with beautiful waterfalls and dramatic seascape scenes. I was very surprised to find such beautiful places just an hour drive from my home. I bought my first camera and a tripod, and then it was a lot of trying and failing to learn the basics of landscape photography. After a trip to the majestic Vøringsfossen waterfall in Norway I was totally hooked.
I still work as a graphic designer and as mentioned before, that has really been a huge advantage for my photography.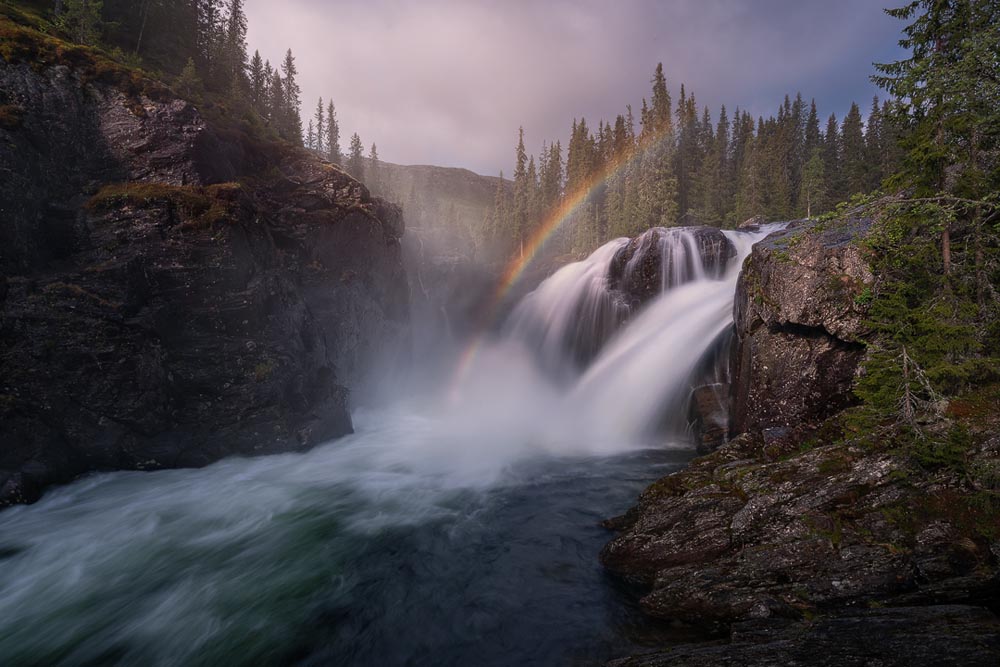 Rainbow Falls
Taken in Hemsedal, Norway
With NiSi Landscape polarizer, ND (3 Stops)
Z: What kinds of photography do you enjoy? How did you develop your personal style in your works?
H: I am only doing landscape photography now. The combination of being out in nature and doing photography is the perfect match for me. Since I live near the coast I have done a lot of seascape photography. So the local spots shaped my style of photography with slightly long exposures and wide-angle foregrounds. I always search for interesting foreground elements to anchor the shot. Post-processing is also a big part of my photography to achieve a dreamy look. When I am out in the field I know how I will process the image to enhance my vision for it.
The Dragon's Eye at Uttakleiv
Taken in Lofoten Islands, Norway
With NiSi Landscape polarizer
Z: Being a father, how does that affect your photography? Do the kids show any interest in photography? Do you have plans on having them follow in your footsteps?
H: It is always a balance on how much time you can spend on photography trips and with your family. I have a very supportive wife so I am very lucky. My kids are now 13 and 16 years old, and are more interested in doing their own stuff than hanging out with their old parents. My daughter is enjoying photography a bit, so it's exciting to see if she will do more of that in the future.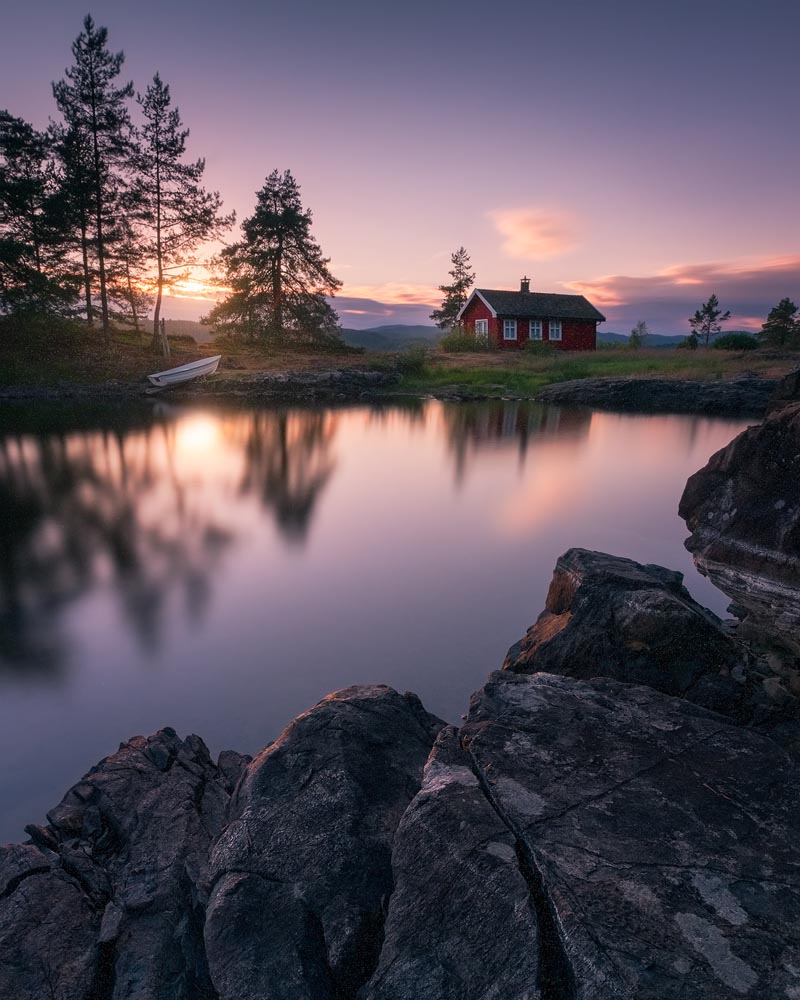 Sweet dreams
Taken in Buskerud, Norway
With NiSi Landscape polarizer, ND (10 Stops)
Z: When did you start using NiSi filters and why?
H: I think I started using NiSi filters 3 years ago. I did a lot of seascapes back then and I was in need of some ND filters and gradient filters. I remember I bought a NiSi Pro Kit with the V5 system, circular polarizer and ND filters. I had read a lot of great reviews and also got it recommended by Christian Hoiberg. I love how the system makes the polarizer closest to the lens.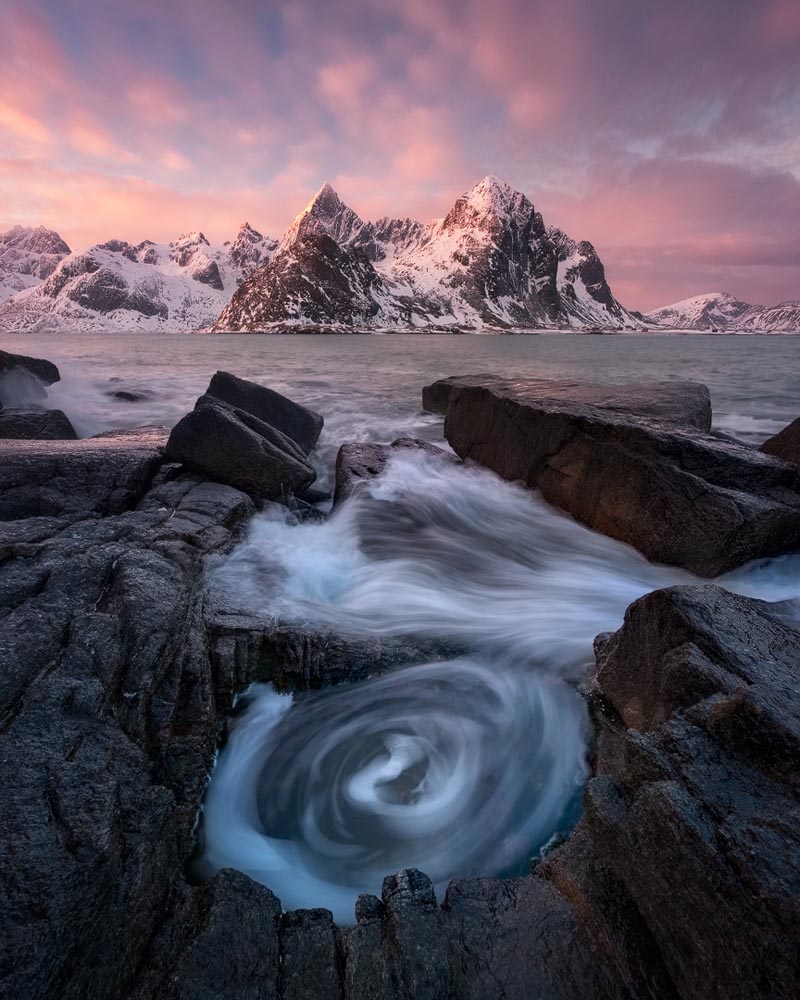 Vareid Vertigo
Taken in Lofoten Islands, Norway
With NiSi Landscape polarizer, Medium GND
Z: Which NiSi products do you usually use in your work?
H: I now use the new V6 system. I rarely take the CPL off and I use the Medium GND a lot. For longer exposures I tend to use the 6-stop or the 10-stop.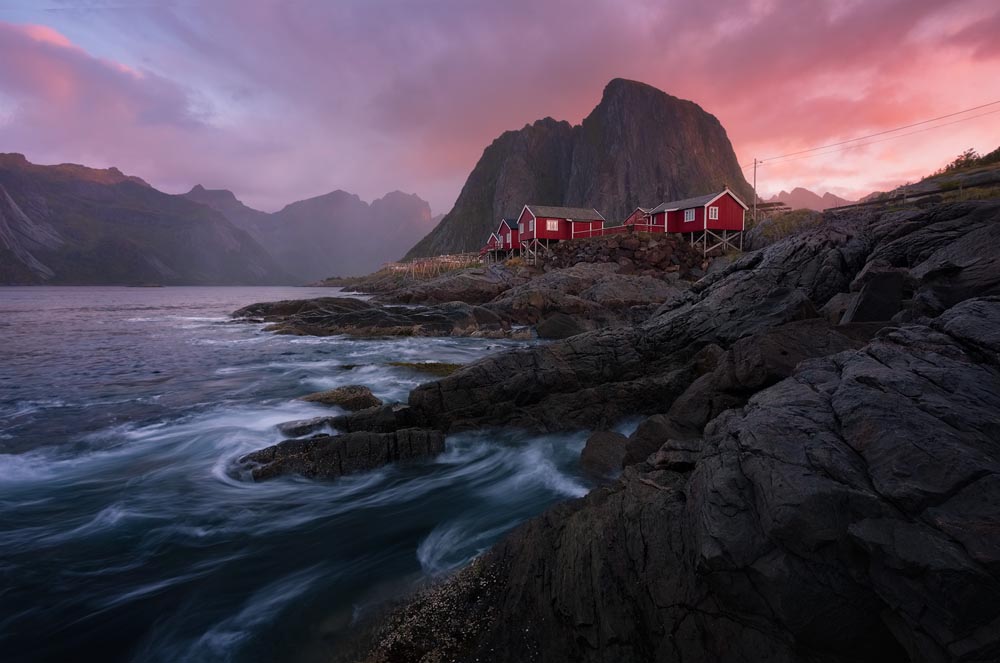 Stormy Hamnøy
Taken in Lofoten Islands, Norway
With NiSi Landscape polarizer, Medium GND
Z: Among all the photos you took with NiSi filters, which one is your favorite? What went into creating it?
H: It's hard to choose a favourite one. But I hold the shot of the potholes in Nissedal very dear. I could not have made that shot without filters of NiSi. I used the Medium GND filter to control the bright light coming in from the left, and used the 10-stop ND filter to smooth out the water. This combination of those two filters was perfect for this scene.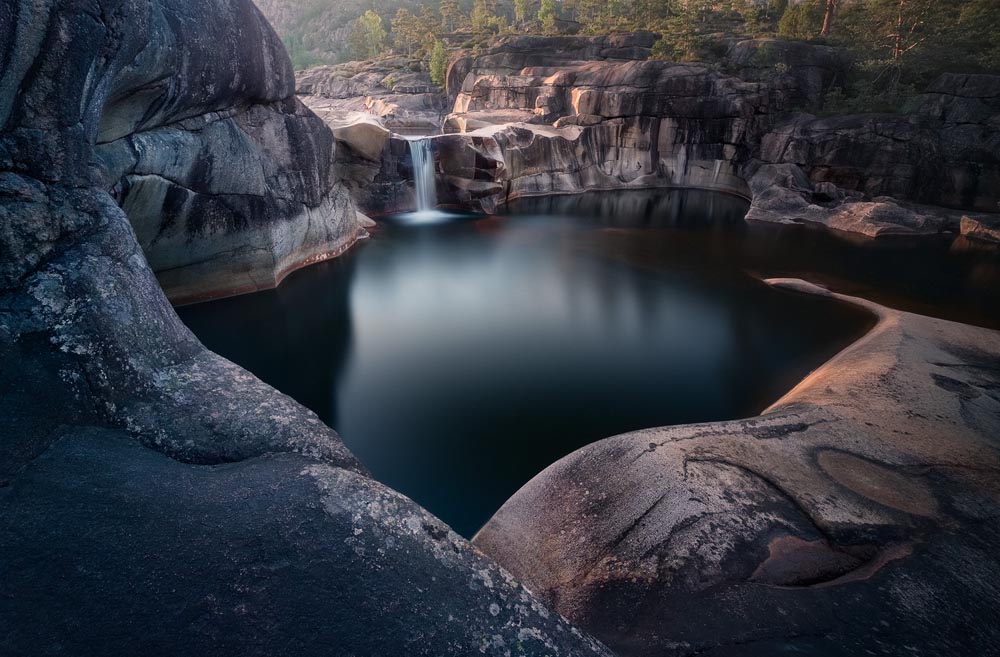 The Potholes in Nisseda
Taken in Nisseda, Norway
With NiSi Landscape polarizer, Medium GND, ND (10 Stops)
Z: Would you share a particularly scary or exciting day from one of your travels?
H: One of my favourite shots was taken on Mølen of Norway. Mølen is Norway's largest beach of rolling stones. The waves came in really hard that day and hit the big stone on Mølen with an explosive splash. The waves hit me as well and killed my lens and camera. I guess Fujifilm equipment is water-resistant. Not waterproof. The image turned out great though.
Kaboom!
Taken in Mølen, Norway
With NiSi Landscape polarizer, Medium GND
Z: What advice would you pass on to new photographers?
H: Learn the basics of manual exposure. Familiarize yourself with the exposure triangle: shutter, aperture and ISO. That's really important. You also need to be good at editing your images. There are a lot of great videos on YouTube on that matter. Learn the theory and practice in the field. Be out there as much as you can in different conditions. Have fun!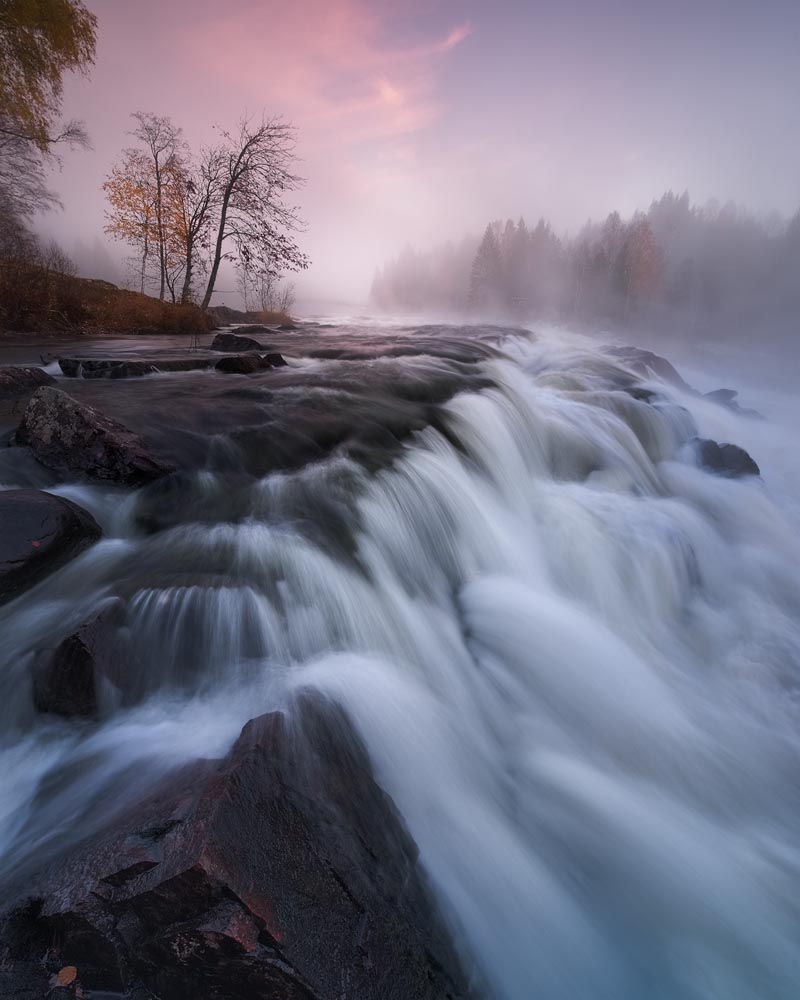 Misty River
Taken in Kjærrafossen, Norway
With NiSi Landscape polarizer, Medium GND
Z: What locations are you looking forward to photographing in the future?
H: I have only been on photography trips in Norway, and I must say that there are so many great spots up here in the north. I don't have any plans right now, but I must admit that Iceland, the Dolomites and Faroe Islands look fantastic.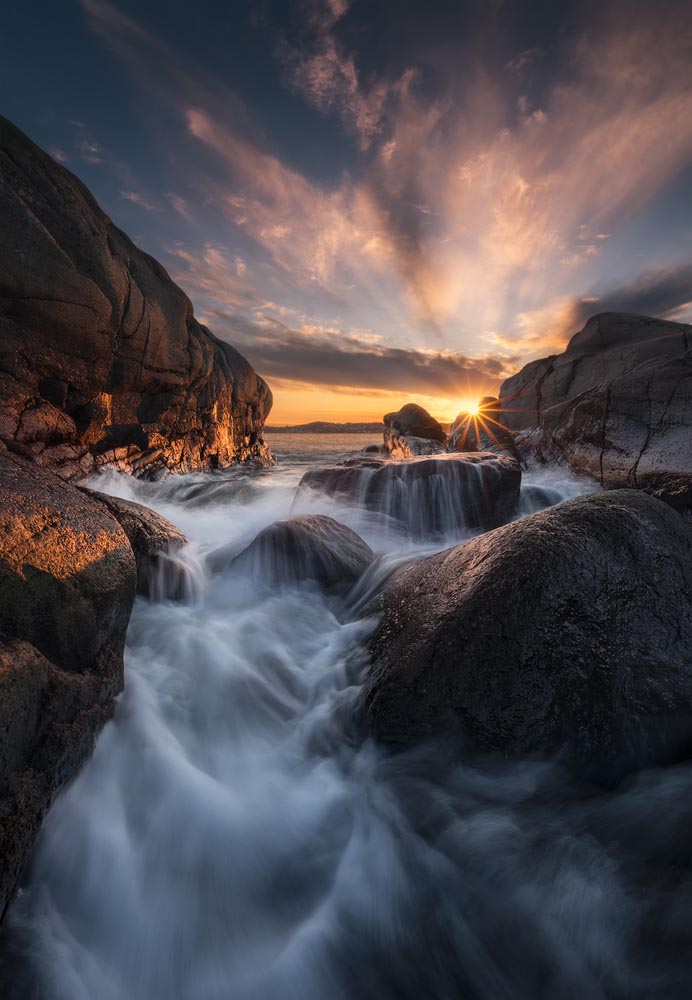 Last light at Gon
Taken in Larvik, Norway
With NiSi Landscape polarizer, GND (3 Stops)