The secret to landscape photography is planning and patience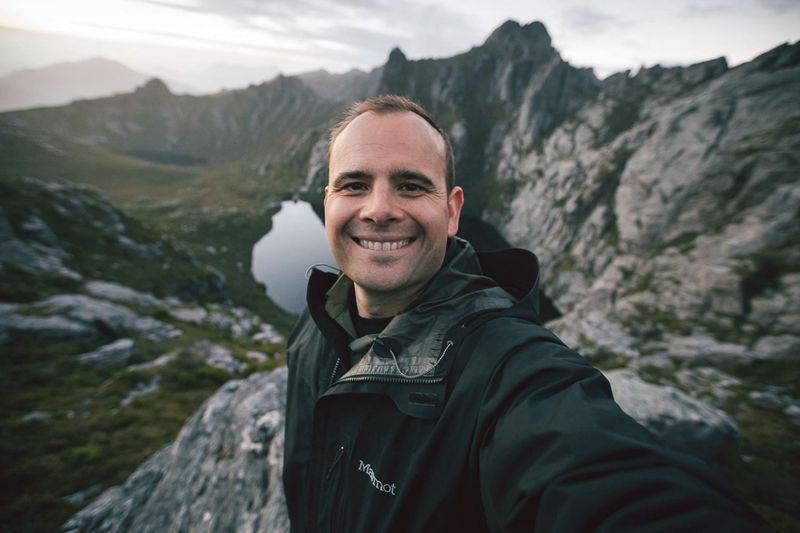 Jarrod Castaing is an award-winning travel and landscape photographer from Sydney's Northern Beaches in Australia. Having traveled through more than 50 countries guiding photography workshops to places like Iceland and Arctic Norway. Jarrod's passion is for sharing the beauty of nature with others. His work has been featured in National Geographic publications and exhibitions worldwide including the South Australian Museum, the Sydney Powerhouse Museum and the Smithsonian Natural History Museum in Washington D.C. NiSi hopes you enjoy this interview with Jarrod as well as his stunning portfolio, and you can find more of Jarrod's work on his website and Instagram.
Z for Zoe and J for Jarrod Castaing
Z: Hi Jarrod! Thanks for being with us here! Firstly, could you share us three random facts about you?
J: Before I discovered photography, I applied to work as an animator at Walt Disney.
I survived an unfriendly scorpion bite while camping in Namibia, Africa.
My favourite film is "Into The Wild" (2007).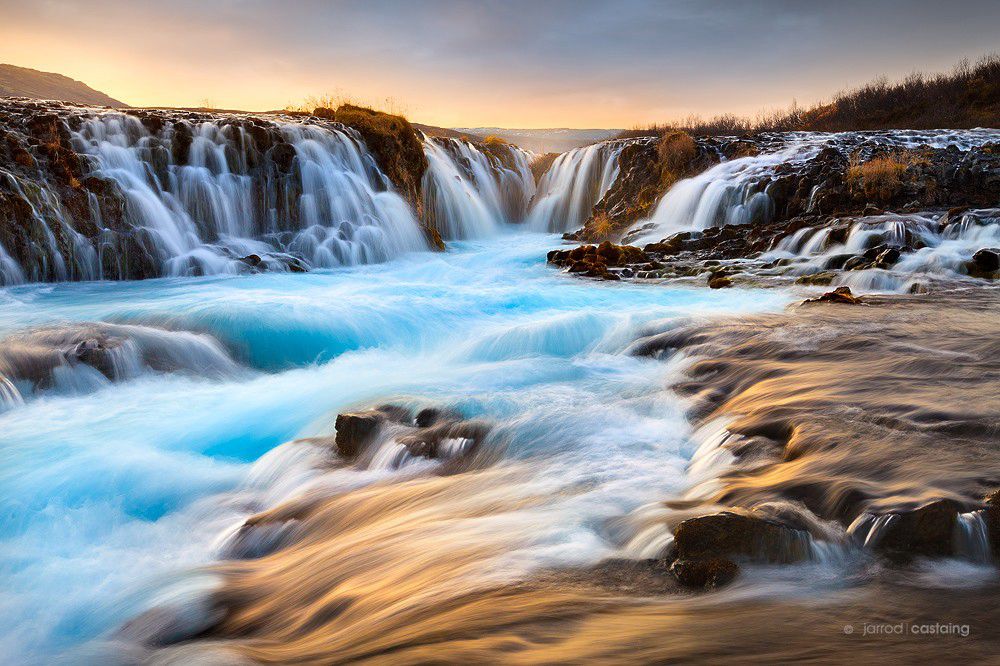 Blue Cascades
Knee deep in the glacial-fed waters of Bruarfoss, Iceland
Taken with NiSi V5 PRO + ND (3 Stops) + Soft GND (3 Stops) + Landscape CPL
Z: How did you get started with photography and what does it mean for you today?
J: I started out in photography working as an assistant for a wedding photographer. I'd carry his bag and chase after him on weekends. If I'm honest, I wouldn't be the photographer I am today without this experience. It's fast paced and often you only get one chance at a shot. Learning to pre-empt a scene and visualise the light ahead of time is incredibly helpful. I believe it's what gives me the ability to capture my vision and experiences today.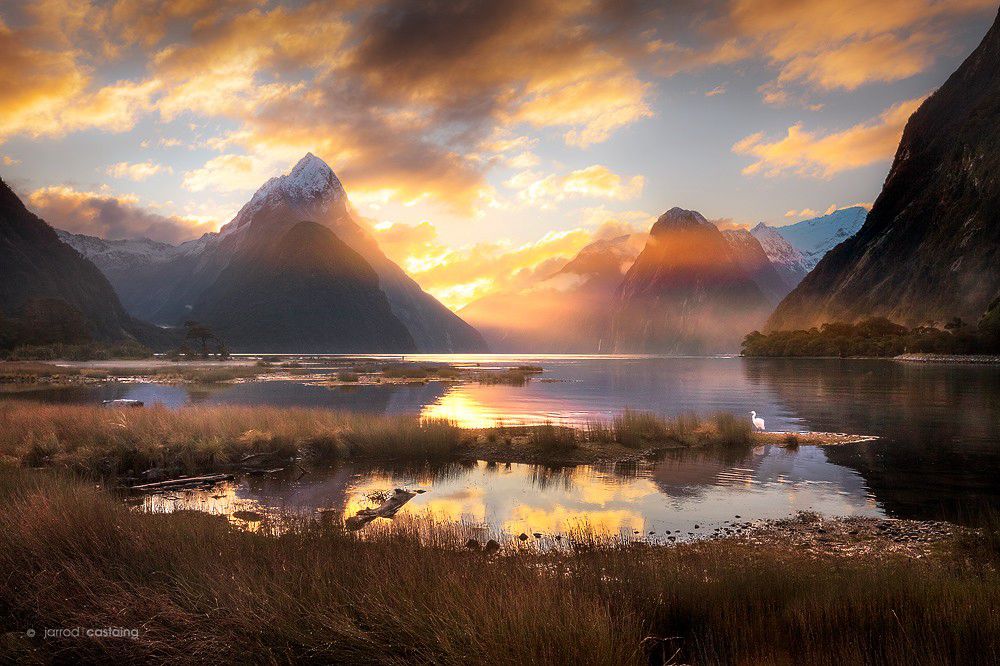 Milford Sunset
Sunset over the jurassic landscape at Milford Sound, New Zealand
Taken with NiSi V5 PRO + Soft GND (4 Stops)
Z: The style that stands out in your images is the vibrant colors. Do the colors in the landscape appeal to you most? How do you focus on this in the shooting?
J: Some of my earliest photographs were actually in black and white. I realised early on that I needed to control my highlights and shadows and prevent them from clipping, but before I discovered filters, I could only do this by shooting on dull overcast days. It wasn't until I learnt how to capture the full dynamic range of say a sunrise that the world of colour opened up for me.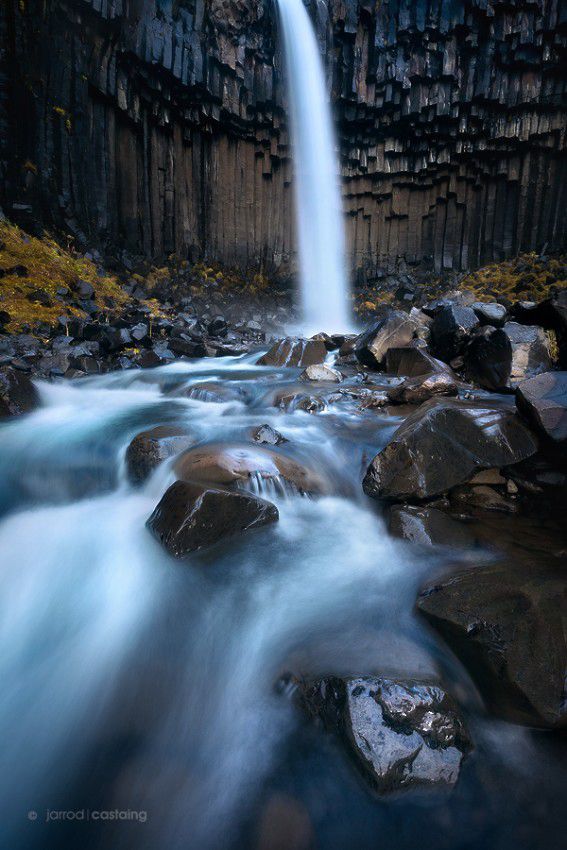 Black Falls
Water tumbles over the volcanic basalt columns at Svartifoss, Iceland
Taken with NiSi V5 PRO + ND (3 Stops) + Landscape CPL
Z: You have traveled to many places (over 50 countries!). Is there any difference between photographing in traveling compared to more locally?
J: Absolutely not. But for me personally, I must admit that I took my local area for granted until I travelled overseas. I live on Sydney's Northern Beaches and we have some of the most incredible beaches and rock formations for seascape photography in the world. You can wake up early and have the entire beach to yourself. However, growing up here, I always wanted to spend my time away in the mountains. It wasn't until I visited many of the world's coastlines that I realised just how good Australian's have it for seascapes.
I like to call it – the hometown advantage. When it comes to getting a great shot of a location, the right light is very important and locals will always have the advantage of waiting for the perfect weather conditions. But in a practical sense, as a photographer on the road, I will try and apply a 3 day rule to my locations, giving just enough time for the weather to turn.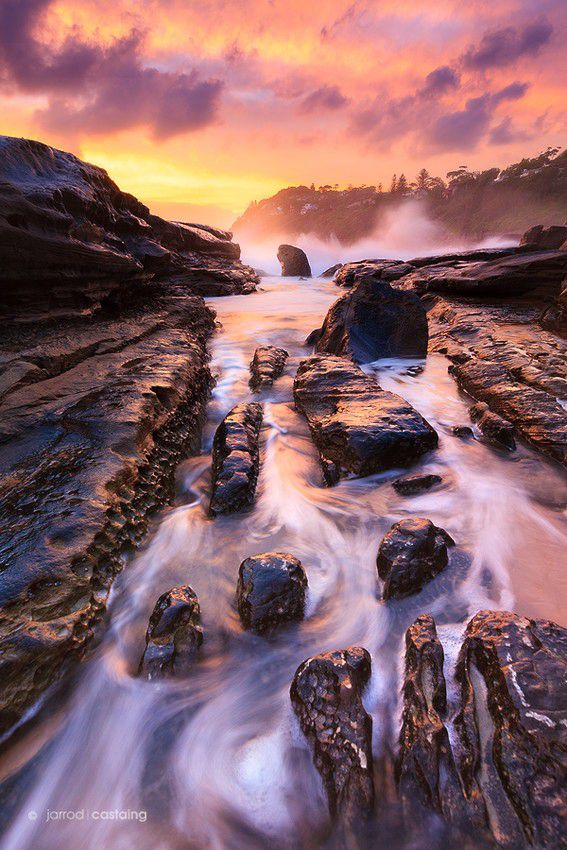 Whale Beach
A fiery sunrise at Whale Beach on Sydney's Northern Beaches, New South Wales, Australia
Taken with NiSi V5 PRO + Soft GND (4 Stops) + Landscape CPL
Z: When did you start using NiSi filters and why?
J: I first discovered NiSi Filters when they came onto the scene here in Australia in 2016. I've used filters from all the manufactures over the years. The big difference for me with NiSi is the revolutionary Circular Polariser system that sits between your lens and your Neutral Density (ND) filters, eliminating vignetting especially on my wide angle lenses.
Mulafossur Falls
Sunset over the wild ocean waterfall Mulafossur on the Faroe Islands
Taken with NiSi V5 PRO + ND (3 Stops) + Soft GND (4 Stops)
Z: Which NiSi products do you usually use in your work?
J: The most used items in my kit would have to be the NiSi V5 PRO 100mm Filter System with Enhanced Landscape CPL, 3 Stop ND, 6 Stop ND and my favourite Soft GND 1.2 (4 Stop).
Nugget Point
Sunrise over the steep cliffs at Nugget Point Lighthouse on New Zealand's south coast
Taken with NiSi V5 PRO + ND (3 Stops) + Soft GND (4 Stops)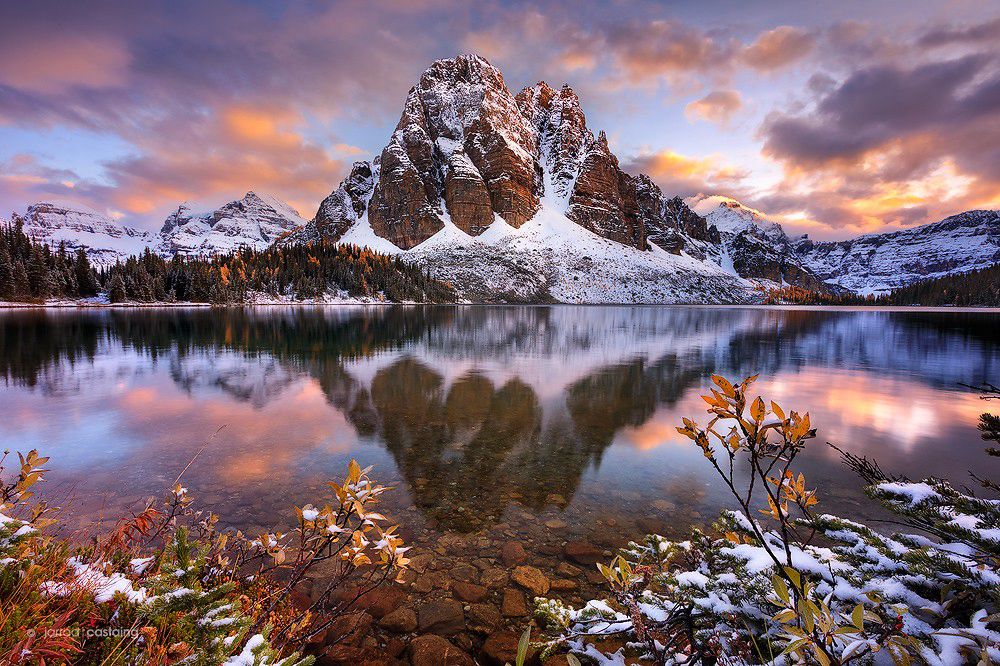 Cerulean Sunset
Sunset reflects in the mirror-like Cerulean Lake at Mount Assiniboine, Canada
Taken with NiSi V5 PRO + Soft GND (4 Stops) + Landscape CPL
Z: Among all the photos you took with NiSi filters, which one is your favorite? What went into creating it?
J: One of my favourite photos is "Frozen Shores" captured along the iceberg beach at Jokulsarlon on the south coast of Iceland. I think it's a great example of capturing a fleeting moment when all the elements come together. Earlier in the day the sun had been dull, blocked behind the upper cloud. I waited for the sun to drop and be partly obscured by the distant mountain creating a sunstar in the lens, while also timing the flow of the ocean. The blocks of ice will move (and blur) as the waves come in, so waiting for the water to recede is important. A 6 Stop Neutral Density Filter is used to slow the shutter speed when shooting into direct sunlight and a Soft Grad (4 Stop) is used to control the dynamic range in the sky.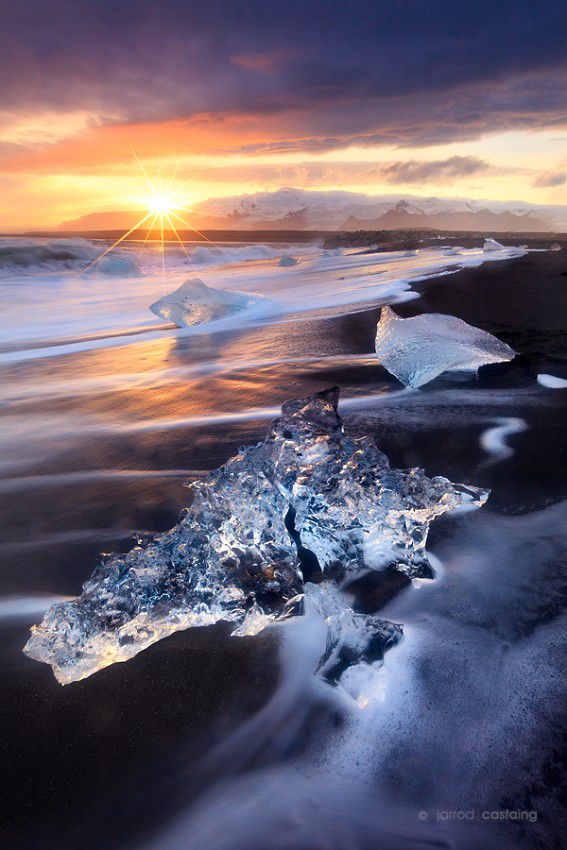 Frozen Shores
A fleeting moment of light in the land of Fire and Ice, Jokulsarlon, Iceland
Taken with NiSi V5 PRO + Soft GND (4 Stops)
Z: What tips would you give to someone just starting out in travel and photography?
J: The secret to landscape photography is planning and patience. Most of my landscapes are the product of meticulous planning. Finding a location, narrowing down the options and establishing a base from which to explore, before finally tramping along the trail itself.
Arriving in the dark at a new location is tricky. If you're in a foreign country and you don't speak the language, then you've probably done well just to find the place. So a little bit of reconnaissance the day before can go a long way. You'll often find you shoot a location better the second time you visit it. It gives you time to consider all possible angles without the pressure of missing the light.
Since scouting will normally occur at a time of day that's less than ideal for photography, I usually try to visualise what the scene will look like when I return. Looking for angles and compositions that include a strong foreground, middleground and background.
Just remember, chances are the first place you set up your tripod won't be the ideal composition. I recommend hand holding your camera until you find a composition you're happy with and then reaching for the tripod.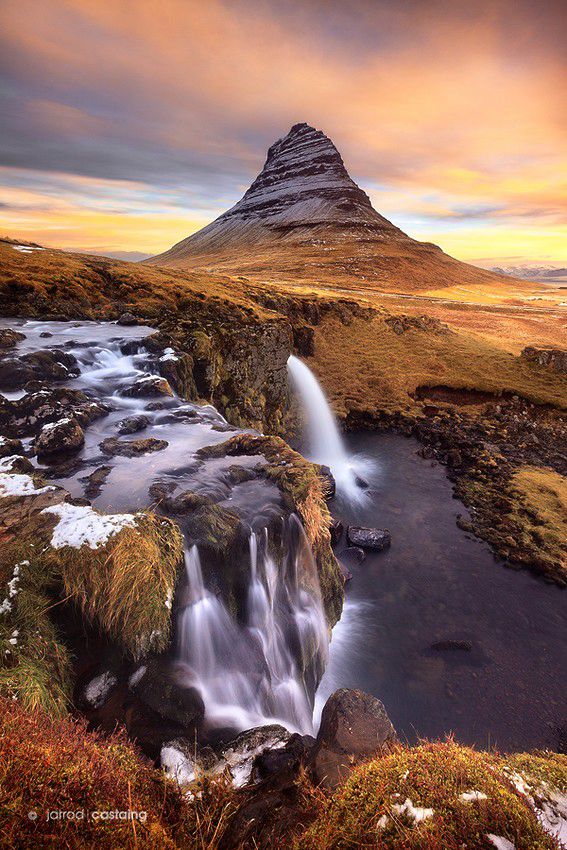 Kirkjufell
Sunrise over the iconic peak of Kirkjufell on Iceland's Snaefellsnes peninsula
Taken with NiSi V5 PRO + ND (3 Stops) + Soft GND (3 Stops)
Z: Where is your next adventure taking you?
J: I'm looking forward to returning to my travels next year. My passion is sharing the beauty of our world with other like minded photographers. This sees me guiding workshops to chase the Northern Lights in Iceland, across arctic beaches in Lofoten Norway and capturing the colours of Autumn in both New Zealand and Patagonia. Until then, I'll be capturing the beautiful Australian coast along Sydney's Northern Beaches.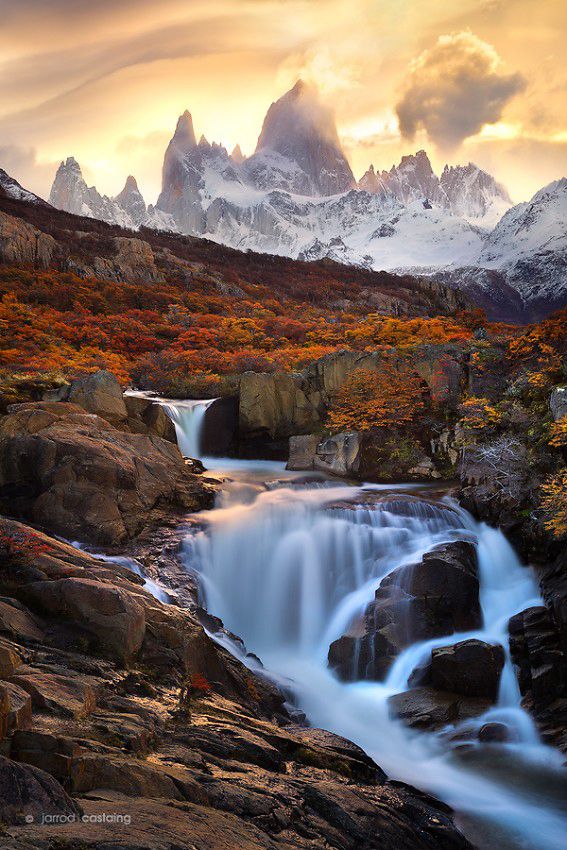 Hidden Falls
Hidden falls surrounded by Autumn colour at Mt Fitz Roy in Patagonia, Argentina
Taken with NiSi V5 PRO + ND (6 Stops) + Soft GND (4 Stops)